Emmaus Ministry for Grieving Parents introduces ongoing Midweek Gatherings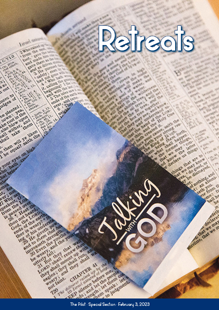 In response to requests from parents for ongoing spiritual support, the Emmaus Ministry for Grieving Parents recently announced that its Midweek Gathering Virtual Retreats will now be available monthly for the foreseeable future.

Originally offered during the pandemic as a way to virtually serve grieving parents, these popular one-hour retreats have become an oasis for parents all over the United States seeking monthly, faith-based peace, and comfort in the middle of their chaotic lives.

The one-hour retreats open with prayer and song and are followed by a reflection given by a spiritual leader or grieving parent, a short discussion, and a closing prayer.

Past Midweek Gathering presenters have included Father Chris Alar, MIC, who reflected on his Epiphany of Hope and how our prayers today can help our loved ones years ago because God is outside of time. Father Chris also had moving words of solace for parents whose children have died by suicide. Greatly affected by his grandmother's suicide, Father Chris wrote his best-selling book, "After Suicide: There is Hope for Them and for You." Many parents whose children have died from other causes have also found this book to be very helpful.

Johnette Williams, EWTN's "Women of Grace" host, talked about her spiritual journey after the death of her only son, Simon, during the November 2022 Emmaus Ministry Midweek Gathering. In the depths of her depression and her darkest hour -- when she feared for her son's soul -- she heard her Father God say to her, "You labored to bring him to physical life. Will you not labor now to bring him spiritual life?" This brought her certain hope. She realized that, even after his death, she could still "mother" her son through prayer.

Other presenters have included Parent Witnesses who have shared where they are in their spiritual journey after the death of their child. Each parent presenter has offered a unique perspective resounding in different ways with those listening.

After the reflection, participants are given the opportunity to discuss what they have heard or to share their own insights. As in all Emmaus Ministry retreats, participants share as much or as little as they like. Many people participate by listening and there are no expectations. Nothing is required.

Because these monthly one-hour virtual Midweek Gatherings have given so much peace and comfort, the Emmaus Ministry will continue providing them on the second Wednesday of every month indefinitely. They will be offered by various dioceses all over the United States, including the Archdiocese of Boston in May 2023. Emmaus Ministry Midweek Gatherings are also available in Spanish.

Since 2009, the Emmaus Ministry for Grieving Parents has been serving the spiritual needs of parents whose children of any age have died by any cause, no matter how long ago. Current programs include Half-Hour, One-Hour, One-Day, and Weekend Spiritual Retreats. The National Shrine of Our Lady of LaSalette in Attleboro, MA, is its spiritual home. See www.emfgp.org/program-schedule for more information.

The Diocese of Albany, NY, will offer the next Emmaus Ministry One-Hour Virtual Monthly Midweek Gathering on Feb. 15, 2023, from 8:00 to 9:00 p.m. ET. Register for this retreat at www.emfgp.org to receive your Zoom link.