Father Jeffrey Kirby's talk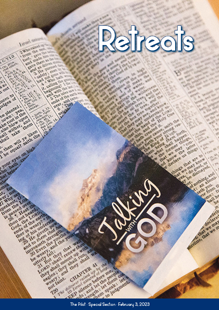 Father Jeffrey Kirby, STD, will be speaking on "Following the Lord Jesus" at St. Florence Parish, Wakefield, on Thursday, Feb. 9, at 9:30 a.m.

Father Jeffrey Kirby, STD, is a Papal Missionary of Mercy, the pastor of Our Lady of Grace Parish in Indian Land, South Carolina, an adjunct professor of theology at Belmont Abbey College, a senior contributor to The Crux news site, and an author of several books on spiritual, moral, and pastoral subjects.

Father Kirby holds a doctorate in moral theology from the Holy Cross University in Rome and a Bachelor of Arts in History and a Master of Arts in Philosophy from the Franciscan University of Steubenville.

In 2016, Father Kirby was recognized by Gov. Nikki Haley and granted the Order of the Palmetto, South Carolina's highest civilian honor, for his service to local communities and young adults throughout the state.

Father Kirby has authored several books, including "Lord, Teach Us to Pray"; "Kingdom of Happiness: Living the Beatitudes in Everyday Life"; "We Are the Lord's: A Catholic Guide to Difficult End-of-Life Questions"; "Thy Kingdom Come: Living the Lord's Prayer in Everyday Life"; "Manual for Suffering"; and the award-winning "Doors of Mercy: Exploring God's Covenant with You."

Father Kirby grew up in West Germany, backpacked through Europe while in graduate school, ran two marathons while in seminary, served in the Army National Guard, attended seminary in Rome, has crossed the Atlantic Ocean by ship, eaten breakfast in the White House, and served as a guest chaplain to the US House of Representatives.

More information on Father Kirby can be found at frkirby.com. He can be followed on Twitter @fatherkirby.

For more information on this free event at St. Florence, Wakefield, see our ad in today's Retreat Section, call 781-245-2711, or visit our website www.stflorenceparish.org/following-the-lord-parish-mission.