Obituary: Father John F. Keane, senior priest, former chaplain of Cardinal Cushing School
---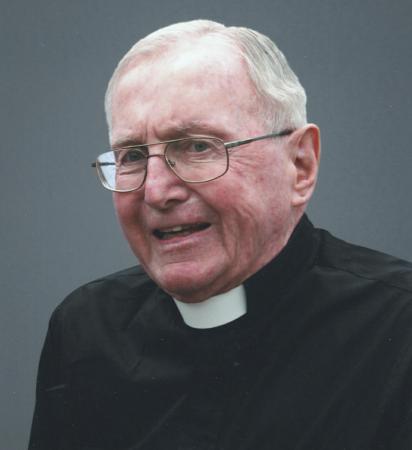 Father John F. Keane Pilot photo
Help us expand our reach! Please share this article
Father John F. Keane who served his entire priestly life in archdiocesan parishes, save for a six-year term as chaplain at Cardinal Cushing School in Hanover died in Yarmouth on April 26, 2019.

He was the sole survivor of the four children of the late Thomas and Margaret (Mullen) Keane and was born in Newton on Aug. 14, 1938. After his elementary and secondary education, he entered archdiocesan seminaries at Jamaica Plain and then St. John, Brighton.

Richard Cardinal Cushing ordained him to the priesthood at Holy Cross Cathedral on Feb. 10, 1965. He returned home a few days later to celebrate his first Mass at his home parish: Corpus Christi, Auburndale.

The cardinal named him assistant at St. Malachy, Burlington, and during the next 41 years, he served as associate or parochial vicar or administrator in the following parishes: St. Clare, Braintree (1967-1969 and 1986-1988); St. Albert the Great, Weymouth (1970-1971); Sacred Heart, Gloucester (1971); St. Mary, Wrentham (1978-1981); St. Joseph, Kingston (1981-1982); Sts. Martha and Mary, Lakeville (1982-1984); St. Edward, Brockton (1984-1986); St. Ann, Gloucester (1988-1993); St. Mary of the Assumption, Brookline (1993-1994); St. Mary, Dedham (1996); Sacred Heart, Haverhill (1997); and Holy Rosary [Italian], Lawrence (1999).

Father Keane was also a member of the Emergency Response Team of the archdiocese (1993-2000). Priests in this group were available for service in any parish where there was a health issue, be it with a pastor or a parochial vicar.

One of Father Keane's longer assignments was the six years he spent as chaplain of the Cardinal Cushing School in Hanover, formerly St. Coletta School, a special needs school which drew resident and commuter students from the south shore and beyond.

He was granted senior priest/retirement status in November 2006. During his retirement he spent the winters in Fort Lauderdale, Fla. and the remainder of the year in Harwich.

More recently due to declining health, he was a resident at Windsor Rehab and Skilled Nursing Facility in Yarmouth, where he died on April 26, 2019.

Father Keane's funeral Mass was celebrated on May 9, 2019 at Holy Trinity Church, Harwich. Private committal followed the funeral Mass.