Prayer service recalls Armenian Genocide
---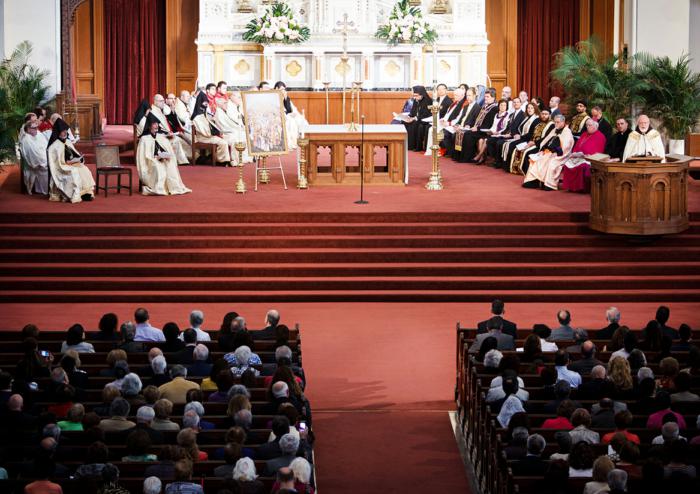 Clergy and representatives of numerous area faith groups are seated around the altar of the Cathedral of the Holy Cross as Cardinal O'Malley delivers his homily. Pilot photo/Gregory L. Tracy
Help us expand our reach! Please share this article
SOUTH END -- The haunting drone of Armenia's national instrument, the duduk, echoed through the Cathedral of the Holy Cross, marking the beginning of the Archdiocese of Boston's first ever commemoration of the Armenian Genocide, April 23.

Cardinal Seán P. O'Malley presided at the ecumenical service, alongside Archbishop Khajag Barsamian of the Eastern Diocese of the Armenian Church of America, Archbishop Oshagan Choloyan from the Eastern Prelacy of the Armenian Apostolic Church, vicar general Msgr. Andon Atamian of the Armenian Catholic Eparchy of the United States and Canada, and the Reverend Avedis Boynerian, of the Armenian Evangelical Union of North America.

Also at the service were representatives from the Anti-Defamation League, the Anglican Diocese in New England, the Community of Sant'Egidio, the Coptic Orthodox Church, the Emanuel Gospel Center, the Evangelical Lutheran Church in America, the Focolare Movement, the Islamic Center of Boston, the Massachusetts Council of Churches, and the Syrian Orthodox Church.

In his homily, Cardinal O'Malley spoke on God's unfaltering love for his people, and how we must never forget that love, "especially in moments of darkness and pain."

"It is that faith, that memory, that conviction, that allows us to recall the genocide of a century ago, and to know that the love and power of God is stronger than death. Christ's cross has conquered sin and death for us," the cardinal said.