12 admitted to candidacy for the permanent diaconate
---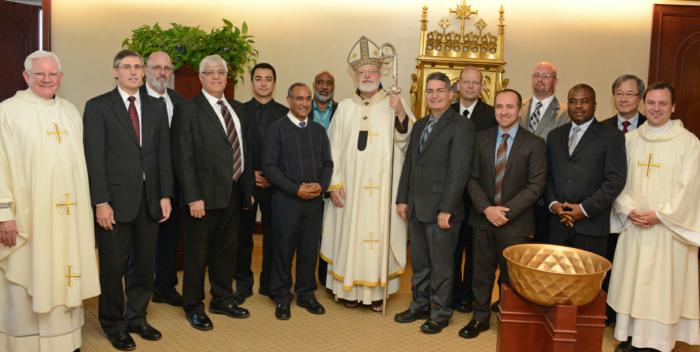 New permanent deacon candidates pose with Cardinal O'Malley and Director of Continuing Formation for Deacons Msgr. William Fay (left) and Deacon Christopher Connolly of the Office of Diaconal Formation (right) following the Rite of Admission to Candidacy Saturday at the Pastoral Center, Oct. 31. Pilot photo/courtesy Permanent Diaconate Office
Help us expand our reach! Please share this article
BRAINTREE -- Cardinal Seán P. O'Malley celebrated Mass and the Rite of Admission to Candidacy Saturday at the Pastoral Center in Braintree on Oct. 31. Twelve men in their second year of discernment and preparation for the Sacrament of Holy Orders and ordination to the permanent diaconate in 2018 were admitted as candidates.

The Rite of Admission to Candidacy is celebrated when it has been established that the aspirants, the first level of diaconal training, are more certain of their calling to the diaconate and the Church is confident that their intentions to be deacons are properly formed and have sufficiently matured to continue in the program. During the Rite of Candidacy the aspirants must make a public expression of their intention to receive Holy Orders and Cardinal O'Malley gives public acceptance of this intention.

Those who received the Rite of Admission were:

-- Robert Horne, St. Joseph Parish, Needham;

-- James Thompson, Sacred Heart, Hanover;

-- Nadim Daou, St. Anthony Maronite Church, Lawrence;

-- Hernan Mendez, St. Patrick Parish, Stoneham;

-- Cristino Ynfante, St. Mary of the Assumption Parish, Lawrence;

-- Osvaldo Fernandez, St. Mary of the Assumption Parish, Lawrence;

-- Julio Sanchez, St. Mary of the Assumption Parish, Lawrence;

-- Charles Kelley, St. John the Evangelist, Townsend;

-- Sermed Ashkouri, Our Lady of Mesopotamia Syriac Catholic Mission, in Newton;

-- David Giangiordano, St. James Parish, Stoughton;

-- Jean France Philippe, St. Angela Merici, Mattapan;

-- Francis Sung, St. James the Greater Church in Boston Chinatown.

Deacons are prepared for ordination during four years of instruction at the Theological Institute in Brighton. Deacons are called to serve all of God's people through the Word, the Liturgy and Charity. The first Ordination of Permanent Deacons in the Archdiocese of Boston was in 1976. For more information please look at the diaconate website, www.bostondiaconate.org or contact Deacon Christopher Connelly, Office of Diaconal Formation, at DeaconChristopher_Connelly@racb.org.