Regis cuts the ribbon on campus construction
---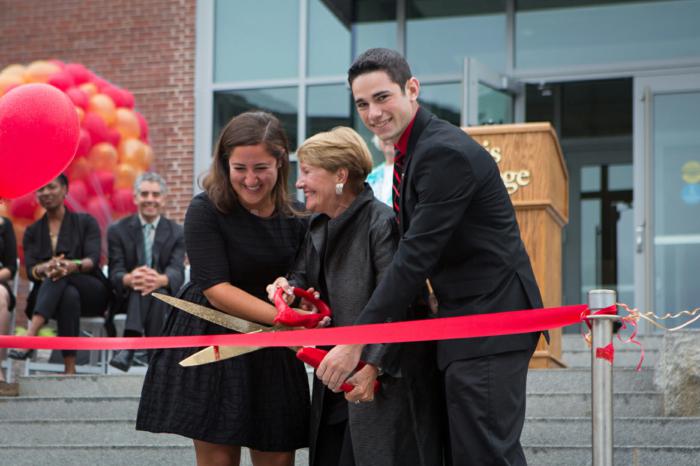 Graduate student, Lauren Ghazal, President Regis College president Antoinette Hays and Student Government President Matt Norton cut the ribbon on renovations at the college. Pilot photo/courtesy Regis College
Help us expand our reach! Please share this article
WESTON -- After a year and half modernizing its campus through a sweeping master redevelopment plan, Regis cut the ribbon on new construction on Sept. 10, undaunted by rain.

A grassy quadrangle, new suite-style residence hall, and redesigned library entrance and foyer now articulate the heart of the campus, which is marked at eastern and western entrances by the Regis seal and its motto in granite: "Via, Veritas, Vita", (the "Way, the Truth, and the Life"), a passage from the Gospel of St. John.

Speaking on the new library steps to hundreds of onlookers, Sister Rosemary Brennan, CSJ, President of the Sisters of St. Joseph of Boston, who founded, sustained and now sponsor Regis, offered a special blessing for "this excellent academic institution," asking especially that "the Spirit of Wisdom" and "the zeal of Christ" continue to inform it and to grace members of the Regis community.

Regis President Antoinette Hays welcomed trustees, faculty, students, staff, alumni, donors and special guests, including neighbors from the town of Weston and political officials.

"I have worked here at Regis for 30 years," President Hays said, "and can honestly say we have never looked better! Thank you to all who played a part in the process: our financing partners, our architects and engineers, the great effort by our construction partners who worked through a very tough winter, our neighbors, faculty and staff who put up with the inconvenience, representatives of the Town of Weston and especially our students who put up with the noise in the early morning hours."

Vinicius Gorgati, principal of Sasaki Associates, the architectural design firm that transformed the inner campus, spoke of the stunning prospect of "this college upon a hill."

"Three years ago when Regis and Sasaki began talking," Gorgati said, "it was clear that Regis had a vision about the heart of its campus. Together we saw that vision, and together we set about working upon it. As President Hays said, 'It's about the students making a community and a home here and, obviously, about their future.'"

Dr. Lauren Beaulieu and Dr. Michelle Cromwell, Co-Chairs of the Regis Faculty Council, jointly expressed the pleasure of the faculty at how "the new construction and new spaces offer new opportunities for learning."

Suffolk Construction managed construction of the project, and despite the noise and detours around campus, students seemed to thrive.

Graduate student Lauren Ghazal said, "There's something about innovation and change that is exciting and provides me with the gratification that future classes will be able to experience even more than I have."

Senior Evan Stone was amazed "to see what changes have occurred at Regis in four years both in physical appearance and in a more national campus culture."

Concluding the ceremony, Regis Board Chair Joan Shea applauded the efforts of all involved and especially thanked President Hays, Vice President Thomas G. Pistorino, Project Manager Martin Dow, and Physical Plant Director Joseph Shaughnessy for their oversight and diligence throughout the process.

Then President Hays, Lauren Ghazal, and Student Government President Matt Norton hoisted huge golden scissors and cut the ribbon. A bundle of red and gold balloons -- the Regis colors -- climbed into the sky pushing the drizzle away, and U2's "It's a beautiful day" rang around the heart of the campus.

"Planning for Phase II of the Master Plan, which will renovate Regis science facilities," said board chair Joan Shea, "is now in progress."