Judge orders vigilers to leave closed Scituate church
---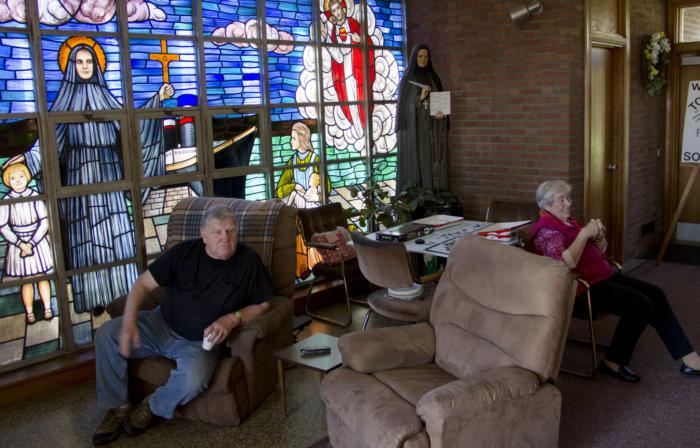 Former parishioners at the closed St. Frances Cabrini Church in Scituate remain in vigil May 14, 2015. Earlier in the day, a Superior Court judge had ruled that those holding vigil must leave by May 29. Pilot photo/ Christopher S. Pineo
Help us expand our reach! Please share this article
SCITUATE -- Norfolk County Superior Court judge Edward P. Leibensperger has ruled May 14 that former parishioners holding a vigil at a former parish in Scituate are trespassing and gave the former parishioners 15 days to leave the property.

The ruling is the latest round of an 11-year standoff between the Archdiocese of Boston and former parishioners at the former St. Frances X. Cabrini Church.

"We appreciate the court having taken the time to review this matter and issue a clear and thoughtful ruling. We ask the Friends of St. Frances to respect that decision and conclude the vigil," archdiocesan spokesman Terrence C. Donilon said.

The archdiocese had asked those keeping the vigil to vacate on two previous occasions after a ruling by the Vatican's highest court upheld the closure under canon law, but when vigil goers stayed after a March 9 deadline, the archdiocese took action against them in court the next day.

After the Norfolk County judge ruled in favor of the archdiocese, the vigil group remained in place at the former parish.

Donilon called on the vigil group to consider participating in Catholic parish life at another parish.

"The parishes of the Archdiocese welcome and invite those involved with the vigil to participate and join in the fullness of parish life," he said.

At the former parish, a spokesman for the group said they intend to stay in place.

"Right now, I think that this needs to be appealed. It needs to be appealed not only for us but for all the other churches," Jon Rogers said.

Rogers has been with the vigil since 2004 Parish Reconfiguration process, when the archdiocese "suppressed," or legally dissolved, 70 parishes and subsequently closed most of their church buildings. In response, former parishioners at 11 parishes, including St. Frances X. Cabrini, filed appeals of the suppressions with the Vatican. In addition, former parishioners of various parishes occupied several church buildings to keep them from closing. St. Frances X. Cabrini is the last former church with an ongoing vigil.

Rogers also spoke about the emotional impact of the Norfolk court ruling on those keeping the vigil.

"The emotional aspect is, it's crushing. It's crushing. We have invested 11 years of our time, treasure and talents in this. We have invested a lifetime in our spiritual home, and they're going to take it away just because they consider us disobedient," he said.