Forming the Future: Trinity Catholic Academy's STREAM program
---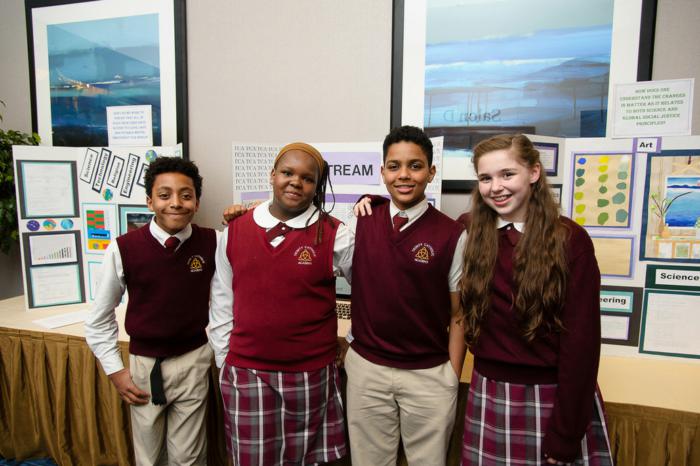 Students from Trinity Catholic Academy in Brockton stand in front of a display explaining their STREAM curriculum at the Inner City Scholarship Fund Dinner in Boston April 15. Pilot photo/courtesy John Gillooly, Professional Event Images
Help us expand our reach! Please share this article
What do science, art, English, math, religion and technology all have in common? According to eighth grader Jason Dias, from Trinity Catholic Academy in Brockton, the answer is "Everything!"

This year Dias, and all the seventh and eighth graders at Trinity Catholic Academy, are learning the inter-connectivity of these subjects as part of their STREAM curriculum, thanks in part to a $100,000 grant from the Catholic Schools Foundation. Students tackle one basic question, such as, "How can we work to ensure that all God's creatures have access to clean, safe and potable water throughout our world," and seek answers through science, technology, religion, English, art and math.

"It was really cool," exclaimed 7th-grader Jayden Germana. "We thought about ways to make clean and filtered water. We even got to build the water filter that we designed."

"And our teacher made some really dirty water -- putting all kinds of things in it -- until it kind of looked like milk," he continued. "And then when you poured it through our filter, the water came out clean!"

Desiree Irungu, another 7th grader who worked alongside Germana, also loved creating the water filter. She added that for her, "being able to see the different ways that the same question can be answered was really cool."

She noted that seeing how water conservation was tied to her faith -- being of service to others by making sure that she does not waste water -- was "eye-opening."

"I really liked doing this," Irungu said.

According to art teacher Jeannine Tasho, who organizes the STREAM program, each grade was presented with one question. The students then were divided into small groups as they sought to answer the question through the different subject matters. Once students finished exploring the question, they assembled posters to show their findings to their friends, family and even to the wider community.

"For me it was wonderful to see the projects come together," Tasho said, noting that currently students are working on a second set of questions -- 7th graders are exploring natural disasters, and 8th graders are exploring motion. She hopes to be able to begin a third set before the school year ends, and has even begun incorporating the school's 6th graders in the STREAM project.

"I've been so proud of our students,'' she said. "They didn't all understand at first, but by now everyone is very motivated to learn as much as possible, and have even asked for other subjects to get involved in the curriculum.

"At first I was a little confused on how one question was supposed to be answered with so many different subjects, but then I saw how it's all interconnected," said eighth-grader Rivers Pokraka. "Putting the board together, it kind of all fell into place."

"I've loved it," said Dias, who worked with Pokraka, said. "It made everything make so much sense because everything is related."

"I really hate to leave it behind this year," Dias said somberly.