Ordination class of 2015: Deacon Christopher Lowe
---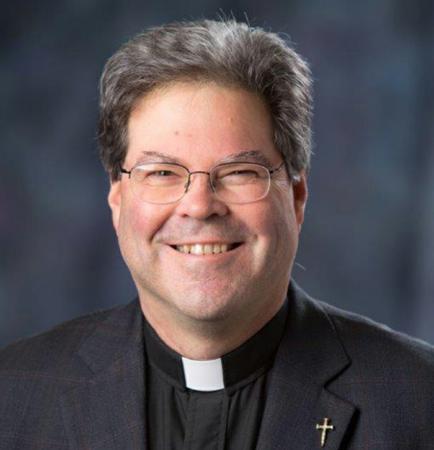 Deacon Christopher Lowe Pilot photo/courtesy Office for Vocations
Help us expand our reach! Please share this article
This week is the second installment in the series profiling each of the five men who will be ordained to the priesthood by Cardinal Seán P. O'Malley at the Cathedral of the Holy Cross on May 23.

At the age most men begin dreaming about their retirement, Deacon Christopher Lowe is embarking on a new phase of his life: the priesthood.

The only seminarian from Pope St. John XXIII National Seminary to be ordained this year for the Archdiocese of Boston, Deacon Lowe, 59, was born and raised in Maine, where his father and brother still reside today.

"My roots are in Maine, but my heart is in Massachusetts," he said smiling.

A cradle Catholic, he studied chemical engineering at the University of Maine, Orono campus. While there, he played the organ for the Newman Center, the Catholic organization on the campus. Deacon Lowe recalled that when the center was forming a new choir, a young woman named Carmen joined the group.

"I couldn't stand her at first," he laughed, adding that they married shortly after college. After a short stint living in Arizona, the couple settled in Massachusetts, where they attended St. Catherine of Alexandria Parish in Westford, and participated in the parish choir. They never had children.

In 1998, Carmen Lowe was diagnosed with Castleman's Disease, a rare disorder that involves a proliferation of cells in the lymphatic system.

"Her initial prognosis was two years, but she lived another nine after that," he said. "I consider those extra years to be a gift from God."

Eleven years after being diagnosed, Carmen Lowe lost her life to the illness.

Two weeks after her death, something very strange happened, Deacon Lowe said. "A voice woke me up from a sound sleep that said, 'Now will you follow me?'"

The following Sunday, in his parish bulletin there was an insert that read, "Is God calling you?" he continued, adding that those two incidents made him question whether God was calling him to the priesthood.

For the next year, Deacon Lowe prayed and discerned, often speaking with Father Daniel Hennessey, director of the Office for Vocations in the archdiocese. After much prayer, he found his answer.

"Everyone I know, to a person, all said, 'It's about time,'" he laughed. "My dad has been so supportive he just can't contain himself."

In 2011, Deacon Lowe sold his house, quit his job and I "moved into an 8 by 16 room" at Pope St. John XXIII National Seminary, the seminary for late-life vocations located in Weston. He noted that "the change was pretty traumatic."

Returning to school was "a bit tough," Deacon Lowe admitted, but "I have never looked back. I have never thought it was not the right thing to do."

He stressed that the "brotherhood" experienced at the seminary is something he has cherished.

"They are there for you, and are always there," he said. "It's so difficult to understand, but it's unbelievable. I guess it's a taste of the priestly brotherhood."

Looking ahead to his ordination, Deacon Lowe wants to "be the best priest I can be."

"I'm not looking for accolades, because that's not what this is about," he continued. "I'm not going to be the best preacher in the world, but I hope to be the best priest I can be. That's all I can pray for."

He feels that being a late-life vocation may help him when speaking to parishioners.

"So many people have lost mothers and sisters and wives. I can talk to them," he said. "I've had all those experiences. I may not have all the experiences exactly as they have, but I can certainly relate. It makes it a lot easier to talk to them."

Deacon Lowe expressed his desire to reach out to more men such as himself -- men who may have a late-life vocation. He noted that many widowers don't even know they can become priests, even if they feel called.

"We're the 5pm laborers," he joked. "We're going into the vineyard late in life, but we're giving it our all."