Forming the future: Richard Mcallister and Nicholas Neville, Archbishop Williams High
---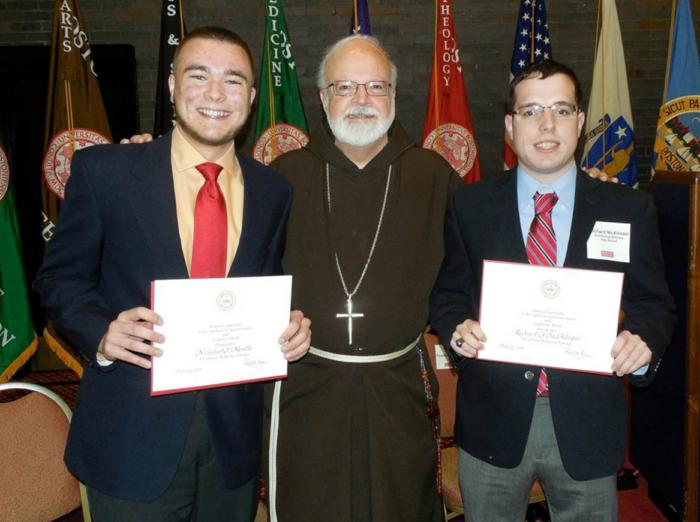 Archbishop Williams High School graduates Nicholas Neville and Richard Mcallister are pictured with Cardinal Seán P. O'Malley after receiving the Cardinal Medeiros Scholarships. Pilot photo/ Courtesy Richard Mcallister
Help us expand our reach! Please share this article
With the national average of debt incurred by college students nearing the $30,000 mark according to the latest study conducted by the Institute for College Access and Success, Boston University freshmen Richard Mcallister and Nicholas Neville have a lot to be thankful for.

Both Mcallister and Neville are recipients of the prestigious Cardinal Medeiros Scholarship, a four-year, full-tuition scholarship to Boston University, and they both feel indebted to Archbishop Williams High School in Braintree -- their alma mater.

"I have Archbishop Williams to thank for where I am at this point. Not just academically, but also spiritually and socially," Neville said. "It was a huge influence at helping me become the person I am today."

According to Neville, everyone at Archbishop Williams High School -- from the principal to the teaching staff -- always challenges the students and encourages them to get involved in a host of activities. Neville himself was involved in the theater program, the school newspaper, the Bottom Line Writing Club, student council, as well as serving as the president of his class junior year and as secretary of the school's National Honor Society chapter.

But of all his activities, perhaps closest to his heart was his role in the Peer Ministry program, where Neville was one of 16 upperclassmen who led retreats for freshman and sophomore students.

"These retreats gave me the support system I needed when I was younger, so I felt I owed it to the younger kids when it was my time to be an upperclassman," he explained. "I loved the opportunity to lead the retreats for the younger grades."

A native of Braintree, Neville, who is enrolled in BU's College of Communication where he plans to major in broadcast journalism, praised his alma mater's ability to prepare him for college, noting that his college classes are not overwhelming to him, in part because his high school taught him so well.

Richard Mcallister also said he feels very well-prepared for college because of his experience at Archbishop Williams High School.

"They prepared me very well," he said.

Although Mcallister's interests differ greatly from Neville's, he too praised the school's ability to encourage its students to get involved.

"It's such a small school that if you join a team and are willing to put in the time, you will become a valuable member of the team," the Scituate resident said, noting that for him, running track was where he found his niche in the school. Mcallister was involved in the cross country team, the indoor track team and the spring track team. He was also a member of the National Honor Society and the Model United Nations.

For Mcallister, the best part of "Archie's," as he called the school, is the camaraderie.

"You know everyone," he said. "You'll walk down the hall and know every teacher, and just about every person."

"Archie's is big enough that there's always someone to meet, and small enough that you know everyone," he continued.

Today, Mcallister studies at BU's School of Engineering, where he is majoring in electrical engineering. Although he does not run competitively anymore, he does continue to run in his spare time.

And he does remain grateful for his four years at Archbishop Williams High School.

"It really challenged me," he said. "It's made me a better student, and a better person no doubt."