New look at Milton parish
---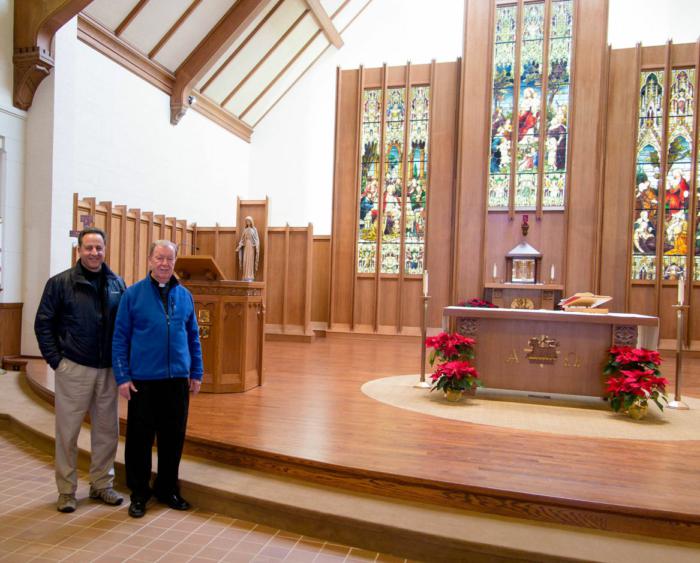 Deacon Tom Palanza and Father Aidan Walsh stand are pictured in front of the renovated sanctuary of St. Elizabeth Church in Milton. Pilot photo/Donis Tracy
Help us expand our reach! Please share this article
MILTON -- When Father Aidan Walsh first became pastor at St. Elizabeth Parish in Milton six years ago, he made himself a promise -- "If I ever have the opportunity to renovate this church, that's what I'll do."

"The church was very bland -- it had no color," he recalled, adding that because the building had been constructed prior to the Second Vatican Council, "it had never been brought up to date."

"It wasn't very conducive to worship," he said. "I really felt I needed to do that for the good of the people."

As he approaches his Farewell Mass, to be celebrated on Feb. 1, Father Walsh has done exactly that. Parishioners at St. Elizabeth's have a completely renovated church -- one that is not only beautiful, but also celebrates the history of the parishioners.

"Many of our parishioners come from families that originally lived in South Boston, Dorchester, Jamaica Plain and other parts of Boston, but who then came here and bought homes and raise their families here in Milton," Father Walsh said.

Tying into that history are three large stained glass windows that create the screen behind the altar -- all three were formerly at St. Augustine Church in South Boston. In addition, wood from the Blessed Sacrament Church in Jamaica Plain was used in the tabernacle.

"It has been a long road, but the church is magnificent," Father Walsh said.

In order to fund the renovations, Father Walsh sold the former rectory located on a 1.24-acre lot across the street from the church. It is currently under construction and will be a 14-bed hospice center specializing in palliative care.

"That is wonderful because Milton doesn't currently have a hospice facility," Father Walsh said. "So really this worked out perfectly."

With the money raised, Father Walsh then contracted Deacon Tom Palanza, a deacon from St. Mary Parish in Mansfield who owns his own construction company, Palanza Group Inc.

Deacon Palanza specializes in church renovations. For over 20 years, the company has renovated churches, rectories, parish schools, parish centers and other Catholic institutions.

"We work solely on diocesan properties," explained Deacon Palanza.

For two years, Father Walsh and Deacon Palanza planned the renovations, holding several open meetings to address any concerns or questions from parishioners. Then in July, they were ready to act.

Deacon Palanza assembled a group of 8 men -- all of whom have worked for him for many years -- and together they cleaned, renovated, created and built the new sanctuary.

"These men are faithful guys," Deacon Palanza said. "They don't just show up to work, they live their faith."

"It was amazing to watch the workmanship," echoed Father Walsh. "They're furniture makers, not carpenters."

During the five-month renovation process, Father Walsh celebrated Mass in the parish hall.

"I think we were all getting a bit tired of being downstairs," he admitted. "I know I was.''

On Christmas Eve, the new sanctuary was unveiled. With a new sound system, new chairs to accommodate walkers and canes, a new wheelchair ramp as well as many aesthetic renovations, parishioners were in awe of the changes, Father Walsh said.

"Some were saying to me, 'Father, it looks like a cathedral', and I say to them, 'It's our cathedral," he said with a smile. "I love this church. I love this parish. I think the people deserve a nice parish."