From Cardinal Seán's blog
---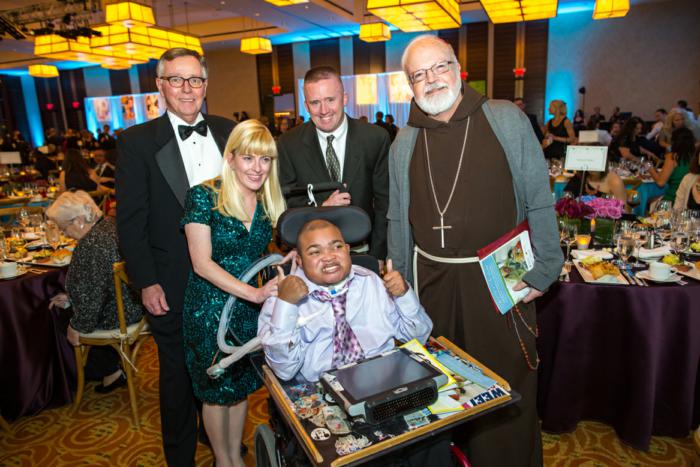 'That evening (11/21) was the Community Leadership Award Dinner and Gala to benefit the Franciscan Hospital for Children.' Pilot photo/CardinalSeansBlog.org
Help us expand our reach! Please share this article
Like all of you, I am sure, I have been closely watching events surrounding the situation in Ferguson, Missouri. The announcement of the grand jury's decision not to indict Police Officer Darren Wilson has occasioned great civil unrest, not only in Ferguson but also throughout the country, including demonstrations right here in Boston. The whole episode almost seems like a throwback to a time in our history when civil rights issues were constantly before us. We have made great progress in the area of civil rights and race relations, but there are still things that need to be done, and the mistrust and pain surrounding this event demonstrates the need for us to continue to work for racial justice and harmony in our country.

Mass at Our Lady of Providence Seminary

On Thursday (11/20), I went to Our Lady of Providence Seminary for a Mass and dinner. We have a number of young men from Boston studying there. Our Lady of Providence is a wonderful institution that serves not just the Diocese of Providence, but various dioceses throughout New England. It is a place where college seminarians receive their priestly formation and, at the same time, are receiving academic formation most often at Providence College, which is an excellent Dominican institution. The seminarians prepared a beautiful Mass for us and they had a great schola. Providence auxiliary Bishop Robert Evans was there with us along with the rector, Father Christopher Mahar, and the priests on the formation staff. Afterwards we had an opportunity to have dinner and socialize with the seminarians.

Franciscan Hospital dinner

That evening (11/21) was the Community Leadership Award Dinner and Gala to benefit the Franciscan Hospital for Children. During the evening, they presented awards to Dr. James Mandell, who is the former CEO of Boston Children's Hospital, and Justin Ith, a 16 year old boy from Revere who received the hospital's Profile in Children's Courage Award. We are very proud of the wonderful work that Franciscan Hospital for Children is doing and I was happy to be able to give the invocation and to thank the supporters and benefactors of the hospital, which does such extraordinary work providing care and rehabilitation for children with a range of very difficult health issues.

Diaconate candidacy

This year's celebration of candidacy for men preparing for the permanent diaconate was held Saturday (11/22), during a Vigil Mass of the Feast of Christ the King in the Cathedral's Blessed Sacrament Chapel. This year we had seven candidates: Carlos DeSousa, Alan Doty, Robert J. Dourney, Charles Landry, Van-Vuong Nguyen, Elcio dos Santos and Brian Shea. Deacon Dan Burns and Deacon Pat Guerrini and Sister Mary Reardon from our Office of the Permanent Diaconate were there with us for the celebration. We were also joined by Father Charlie Hughes, the pastor of St. Anthony's in Lowell who had one of his parishioners receiving candidacy. We are very grateful that the diaconate program is now presenting a new class each year for ordination and that this year's class exhibits the ethnic diversity that we need to be able to serve the various linguistic groups in our archdiocese.