Family and friends remember Bishop John Boles
---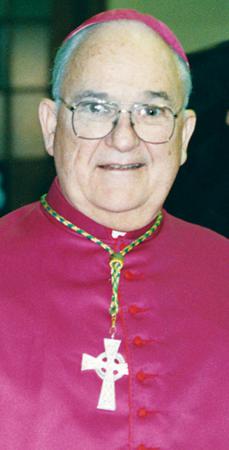 Most Rev. John P. Boles Pilot file photo
Help us expand our reach! Please share this article
BOSTON -- Friends, family and faithful from all over the Archdiocese of Boston came to pay respects to retired Boston auxiliary Bishop John P. Boles at Regina Cleri in Boston Oct. 14, honoring a man who served as bishop, priest and educator in his 59 years of service to the Church.

Bishop Boles died Oct. 9 at St. Patrick Manor in Framingham after a prolonged illness. He was 84 years old. He had served as regional bishop of the archdiocese's Central Region until his retirement in 2006.

He lay in state at Regina Cleri in Boston on Oct. 14, and again at St. Paul Church in Cambridge on Oct. 15. Cardinal Seán P. O'Malley was to celebrate the funeral at St. Paul Church in Cambridge Oct. 16.

James Brett, a cousin of the bishop, spoke with The Pilot on behalf of the family. Brett said he and his family spent a great deal of time with Bishop Boles, particularly on holidays.

"He has a very, very impressive credential background, but what I was always struck by is his humility, piety and simplicity. He always wanted to be referred to as Father John," Brett said.

Bishop Boles was ordained to the priesthood in 1955 by Archbishop Richard J. Cushing. His first assignment came as a parochial vicar at St. Edward the Confessor Parish in Medfield, and later as pastor at St. Paul in Cambridge.

"Even though he became an auxiliary bishop in 1992, he always liked being the parish priest. I thought that was one of his nicest qualities is the humility, the unpretentiousness, yet he was a scholar, an intellectual," Brett said.

Bishop Boles served the archdiocese as Central Region Bishop throughout the sexual abuse crisis. Brett said he met with the bishop at that time.

"Those were dark days. He said to me that in all the years that he was a priest he loved every single day of that priesthood," Brett said.

Though most who came to pay respects Oct. 14 noted his service as a bishop, many also gave accounts of his work as an educator.

Educated as a young man at St. Sebastian's Country Day School, he brought his own education from St. John Seminary in Brighton and Boston College -- a doctorate in education and master's degrees in theology and psychology -- to his role as an educator.

After ordination he joined the faculty and became headmaster of St. Sebastian's in 1966. Before he became a bishop in 1992, he served 18 years as pastor of St. Paul Parish and Senior Chaplain for the Harvard-Radcliffe Catholic Community and served 14 years as Director of Education for the archdiocese.

Msgr. Albert Contons worked alongside Bishop Boles as a teacher at St. Sebastian.

"He was a very wise teacher, and knew how to deal with the students -- very considerate, thoughtful, and kind to them. He was very helpful to the students, advising them on dealing with colleges, and so forth, for admissions," Contons said.

Bishop Boles served the school as a trustee as well. One guest at the wake noted the bishop's personal touch during his time as an educator.

"He treated everyone with great respect, and equally. He was loved by all the students," said Jay Driscoll, a member of St. Sebastian's class of 1977.

Driscoll, who had four brothers who also attended St. Sebastian's, described the school as a family environment during the tenure of Bishop Boles.

Stephen J. Gust, Executive Director of Regina Cleri, spoke about the dignity with which the retired bishop faced the process of aging.

"He understood the challenges of getting older. It's a humbling experience," Gust said. "He was so dignified in the way he did it."

Bishop Boles was preceded in death earlier this year by his sister Mary Boles O'Connor, who Brett said visited the bishop every day during his time at Regina Cleri and at St. Patrick's in Framingham.

"They lived for each other, and they watched over each other," James Brett said.

Brett said his cousin looked at peace as he lay in state.

He said he appeared "ready for his journey to be reunited with his God and with his sister."