World Day for Consecrated Life
---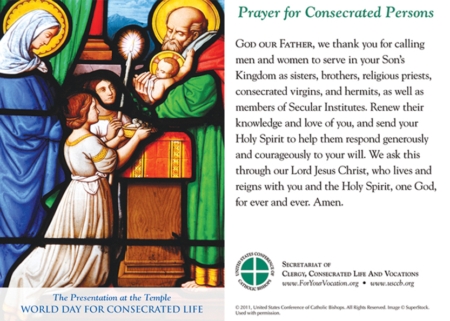 Help us expand our reach! Please share this article
On Sunday, February 2, 2014, the Church celebrates World Day for Consecrated Life. On this day the Church gives thanks especially for the gift of Consecrated Life and for all who have responded generously to God's call as Brothers, Sisters, Religious Priests, Consecrated Virgins, Hermits and members of Secular Institutes. The words of Jesus: "Go sell all that you have and come follow me," (Mt. 19:21) have inspired countless numbers of men and women to say "yes" to the Call to Consecrated Life.

Created in 1997 by our late and beloved Holy Father, John Paul II, this celebration places before us the importance of Consecrated Life: "...is at the heart of the Church and essential to her mission of holiness." (Vita Consecrata, 1996). In 2006 during Pope Benedict's first celebration of Consecrated Life Day, his message included the following words: The consecrated "way of living and working can vividly express full belonging to the one Lord; placing yourselves without reserve in the hands of Christ and of the Church is a strong and clear proclamation of God's presence in a language understandable to our contemporaries." In speaking about the Consecrated Life Cardinal Seán frequently offers these beautiful words: "Consecrated Life is a witness to the promise of Eternal Life and that God indeed will have the last word in each of our lives."

Our Holy Father Francis, in a recent meeting with major superiors, invited consecrated men and women to "wake up the world" by being "real witnesses" to the Gospel. The Joy of the Gospel is to be proclaimed "on the margins." The Feast of the Presentation of the Lord reminds us that we are called to present Jesus and his message of hope wherever we go and to everyone we meet. Consecrated men and women, through the charisms of their respective institutes and their Plans of Life, offer inspiring examples of how to proclaim enthusiastically the love and compassion of God.

We thank God for the gift of Consecrated Life. May the celebration of World Day for Consecrated Life lead us all to a deeper appreciation of this Way of Life and the men and women who follow this way with great fidelity and dedication! May God inspire young men and women to see the Consecrated Life as one that is rich in meaning and filled with many blessings!

Sister Marian Batho, CSJ, is the Delegate for Religious of the Archdiocese of Boston.