Archdiocese hosts interfaith service for healing after Boston Marathon bombings
---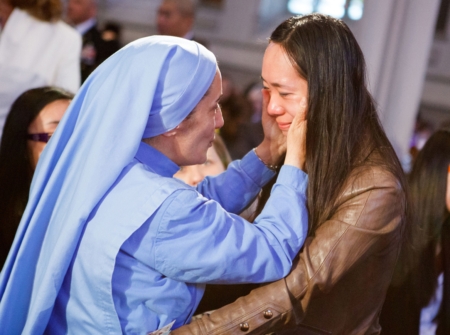 Former Boston University campus minister Sister Olga Yaqob wipes tears from the face of Li Jing, the roommate of Boston University graduate student Lu Lingzi who died in the Boston Marathon bombings at the ''Healing Our City'' interfaith prayer service held April 18 at the Cathedral of the Holy Cross in Boston. Pilot photo/Gregory L. Tracy
Help us expand our reach! Please share this article
BOSTON (CNS) -- The Archdiocese of Boston hosted a sitting president, a group of faith community representatives, and other political leaders who emphasized the enduring strength of the people of Boston, at an April 18 interfaith prayer service, "Healing Our City: An Interfaith Service," remembering those who lost their lives or were injured in the bombings at the Boston Marathon April 15.

The bombs exploded near the finish line, wounding more than 260 and killing 8-year-old Martin Richard of Dorchester, Krystle Campbell, 29, a Medford native and Lu Lingzi, 23, a Chinese national who studied at Boston University.

A crowd of 2,000 guests packed the Cathedral of the Holy Cross April 18 to respond to the tragedy with public solidarity and prayer.

Cardinal Seán P. O'Malley joined Rev. Liz Walker from Roxbury Presbyterian Church; Greek Orthodox Metropolitan Methodios; Rabbi Ronne Friedman of Temple Israel; Rev. Nancy Taylor, minister at Old South Church; Nasser Weddady, chair of the New England Interfaith Council and director of the American Islamic Congress; Bishop John Borders III, pastor of Morning Star Baptist Church in Mattapan; and the Rev. Roberto Miranda, pastor of Lion of Judah Congregation in Roxbury on the altar as the service began.

Boston Mayor Thomas Menino sat in a wheelchair alongside the faith community leaders to allow him access to speak. Massachusetts Gov. Deval Patrick and President Barack Obama sat in front of the pews facing the altar.

Before the service began Vito Nicastro, associate director of the Office for Ecumenical and Interreligious Affairs, told The Pilot the event gave the archdiocese an opportunity.

"Being here at the cathedral enables us as the archdiocese to minister to our city. This is an opportunity for all of us to come together and find the source of comfort in our faith that gives us the answers that science and law enforcement can't," Nicastro said.

Opening the service with a welcome and opening prayer, Rev. Walker said such a tragedy raised questions for people of many faith traditions irrespective of their station in life.

"How can a good God allow bad things to happen? Where was God, when evil slithered in and planted the horror that exploded our innocence?" she asked.

She said she had no answer, yet made an observation in response to those questions.

"But this is what I know: God is here in the midst of this sacred gathering, in this sanctuary and beyond, different faiths, different races, strangers bound first by loss and pain but now clinging together in growing strength, in a city that has always faced the darkness head-on," Rev. Walker said.

Many of the faith community leaders spoke of the goodness of humanity shown immediately after the bombs exploded not only in the actions of first responders, but with people helping each other and runners even going directly to hospital to give blood.

As Greek Orthodox Metropolitan Methodios greeted the gathered and the faith community leaders, he pointed to the symbolism of the Boston Marathon run on Patriot's Day.

He noted, before a period of reflection and prayer, that the word marathon commemorated the run of the Greek soldier Pheidippides, which announced a victory over "the forces of an empire that devalued freedom, human dignity and democracy," and that the holiday commemorated the first battles for freedom in the American Revolutionary War at Lexington and Concord.

"It was on that day that evil reared its ugly head once again, and countless innocent men, women and children fell victims to a senseless and unspeakable act of brutality, but we know that bombs of terrorism may kill and injure but they cannot crush the American spirit," Metropolitan Methodios said.

Mayor Menino reflected on the crisis and the spirit of Boston in his remarks.

"It is written that 'hatred stirs up strife, but love covers all sins,' and since the clock struck that fateful hour love has covered this resilient city," the mayor said.

He said doctors, nurses, firefighters, police, service members, and the people of Boston worked to help those endangered, harmed and injured by the blasts from the first moment of the tragedy.

"This was the strength of our city at work. We have never loved the people of the world, and our great country, more for their prayers and wishes, and, yes, we even love New York City more," he said.

The mayor noted that Boston Red Sox fan favorite "Sweet Caroline" played at Yankee's Stadium the day after the tragedy and the flag of Boston flew in lower Manhattan.

"God's love will have last word. God has not forsaken Boston," said Rev. Miranda, afterward.

After a Gospel reading from Matthew 5:1-12 by Bishop Borders III, Cardinal O'Malley, who returned to Boston April 16 after a retreat in the Holy Land, reflected on American freedom in response to terrorism, spoke from a standpoint of interfaith, and delivered a message to the people of Boston from Pope Francis.

"The Holy Father invokes God's peace upon our dead, consolation upon the suffering and God's strength upon all those engaged in the continuing work of relief and response," Cardinal O'Malley said. "The Holy Father prays that we will be united in the resolve not to be overcome by evil, but to combat evil with good, working together to build an ever more just, free and secure society for generations to come."

He said the attacks shook people from complacency to service.

"We must overcome the culture of death by promoting a culture of life, a profound respect for each and every human being made in the image and likeness of God, and we must cultivate a desire to give our lives in the service of others," he said.

The cardinal expressed a need to foster attitudes of community and the common good over attitudes of selfish individualism, as he spoke about a theme he encountered in the Jewish tradition.

"The Jewish people speak of Tikkun Olam, 'repairing the world.' God has entrusted us with precisely that task, to repair our broken world. We cannot do it as a collection of individuals; we can only do it together, as a community, as a family. Like every tragedy, Monday's events are a challenge and an opportunity for us to work together with a renewed spirit of determination and solidarity and with the firm conviction that love is stronger than death," he said, before closing with the Prayer of St. Francis.

In his remarks, Gov. Patrick said he felt most thankful for those in Boston who "in the aftermath of such senseless violence, let their first instinct be kindness."

"So, we will recover and repair," the governor said. "We will grieve our losses and heal. We will rise and we will endure. We will have accountability without vengeance; vigilance without fear. And we will remember, I hope and pray, long after the buzz of Boylston Street is back and the media has turned its attention elsewhere, that the grace this tragedy exposed is the best of who we are."

President Obama said the marathon's beauty was shattered by violence and noted that the prayer service was an opportunity to "come together to pray, and mourn, and measure our loss."

"But we also come together today to reclaim that state of grace -- to reaffirm that the spirit of this city is undaunted, and the spirit of this country shall remain undimmed," he said.

The president offered prayers and support for those killed in the tragedy and offered words of encouragement for the wounded.

"We will all be with you as you learn to stand and walk and, yes, run again. Of that I have no doubt. You will run again," he said.

He noted the strength that Americans find in their faith in each other, love for each other, and for their country.

"That's why a bomb can't beat us. That's why we don't hunker down. That's why we don't cower in fear. We carry on. We race. We strive. We build, and we work, and we love," he said.

"And this time next year, on the third Monday in April," he said, "the world will return to this great American city to run harder than ever, and to cheer even louder, for the 118th Boston Marathon."

Yo-Yo Ma, the world famous cellist and musician and a Cambridge resident, told The Pilot that musicians he spoke with at the cathedral that day told him they hoped to contribute their talents toward a first step in healing.

"I think this is one of the moments when faith and music really come front and center into our lives, because whenever tragedy strikes we need to show up to reaffirm our beliefs and our values. I think the fact that we see so much of the citizenry of this community show up shows how strong we are," he said.

CNS material contributed to this story.