From Cardinal Seán's blog
---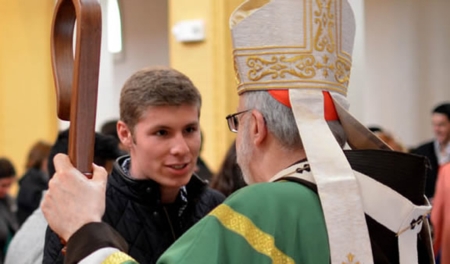 'Sunday (1/20) I visited the campus of Northeastern University to celebrate Mass and visit the Catholic Center there, which is run by the Brotherhood of Hope.' Pilot photo/CardinalSeansBlog.org
Help us expand our reach! Please share this article
Sunday (1/20), my stepmother Claire O'Malley, surrounded by my cousins and aunts and Father Mario Castaneda, passed away in Boca Raton, Florida, praying the Rosary with our family. Claire was anointed and received Holy Communion before she died. A few months ago, she had an operation that was unsuccessful and caused a number of complications. However, she was a very healthy person for most of her 90 years and we are very grateful for the long and beautiful life that she had and the wonderful care that she gave to my father in his old age. She really was an integral part of our family and the extended family. She will be fondly remembered and sorely missed.

We are delaying the funeral Mass until next week to give time to some of our relatives who are abroad to be able to get back home for the funeral and burial. I want to say that I am very grateful for all the expressions of condolences and the prayers that people have extended for Claire and my family.

Diaconal Ordination

Saturday (1/19), as we do every year at this time, we ordained a new class of transitional deacons. This year, there were three men ordained: Deacons John Cassani, Gerald Souza and Christopher Wallace. There are two other members of the class who are already deacons and will join them for the priestly ordination in June. Deacon Tom MacDonald, who is studying in Rome, has already been ordained to the diaconate over the summer and the other classmate is Deacon Jacques McGuffie, who was already a permanent deacon in the archdiocese and has been studying at Blessed John XXIII National Seminary.

Visit to Northeastern

Sunday (1/20) I visited the campus of Northeastern University to celebrate Mass and visit the Catholic Center there, which is run by the Brotherhood of Hope. We celebrated Mass at the former St. Ann's Church. The students there have a wonderful musical group.

The Mass was very well attended by students, as well as some graduates who had returned to be with us. After the Mass, there was a small reception and we visited the Catholic student Center which is just across the street from the church. We are very blessed to have the Brotherhood of Hope working in the Archdiocese of Boston. They are faith filled men who witness with their lives and the ministry they do is a great blessing.

Their community has just elected a new superior, Brother Ken Apuzzo, who will replace Brother Rahl Bunsa, who was with us at the Mass. The new superior will come into office at Pentecost.

We want to express our gratitude to Brother Rahl who served three terms as superior and also to congratulate Brother Ken who was elected their recent chapter. We assure him of our prayers and support.

Mass with Bishop D'Arcy

Bishop John D'Arcy has been recently diagnosed with an aggressive form of cancer and will be soon returning to his old diocese. So, Monday morning (1/21), we took the opportunity to celebrate Mass with him and his family. It was wonderful to have a chance to visit with him and thank him for his ministry here in Boston where he was spiritual director at St. John's, ran the Spiritual Life Office and was, of course, auxiliary bishop. We also thanked him for the wonderful work that he has done as Bishop of South Bend, Indiana. ...We are saddened, of course, by his present health situation but we wanted to assure him of our prayers and affection. I also want to encourage all of you to pray for him and his family.