Obituary: Father Alexander J. Keenan, age 62
---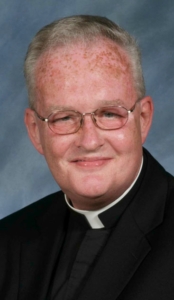 Father Alexander Keenan Pilot file photo
Help us expand our reach! Please share this article
Father Alexander J. Keenan died Jan. 16 in East Boston at the age of 62.

Father Keenan was born Aug. 7, 1950 in Barnstable. He was one of three children of John W. and Frances M. (Haley) Keenan.

He attended Boston Latin School, Cardinal O'Connell Seminary and St. John's Seminary. He was ordained by Cardinal Humberto Medeiros on May 15, 1976 at the Cathedral of the Holy Cross.

His first assignment following ordination was as assistant pastor at St. Margaret Mary Church, Westwood. On June 1, 1978, he was assigned as an associate pastor at St. Mary Church, Billerica. He became a member of the Clergy Fund Advisory Committee on July 1, 1985.

In 1987, he joined the Glenmary Home Missioners and served in St. William Church in Murphy, N.C. and St. Mark Church in Clarksville, Ga.

After returning to the archdiocese, he was appointed administrator of St. Bridget Church, Abington in March 1993.

In August 1994, he was named pastor of Gate of Heaven Church, South Boston and in 2008, he was appointed temporary administrator of St. Ambrose Church, Dorchester.

In recent years, Father Keenan has been in residence at Most Holy Redeemer Church, East Boston, where he celebrated Mass for both the English and Spanish communities.

His funeral Mass was Jan. 22 at Most Holy Redeemer Church. Bishop Robert Hennessey was the principal celebrant and homilist. Designated concelebrants included Msgr. Charles J. Bourque, Father Kevin J. O'Leary, Father Robert E. Casey, Father Thomas S. Domurat, Father John L. Doyle, Father Wayne L. Belschner and Father Donald J. French of the Archdiocese of Hartford.

Interment was at Oak Grove Cemetery in Medford.

Father Keenan is survived by his sister Elaine Keenan and her fiance Alan Preston of Wilton, N.H. and his brother William E. Keenan and his wife Susan of Halifax, Nova Scotia, as well as by his niece and nephew, Jacklyn and Clark Preston of Wilton, N.H. and his niece Kerry Fay of Concord, N.H.