Blessed Kateri parishioners to attend canonization in Rome
---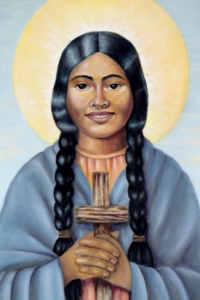 Blessed Kateri Tekakwitha CNS photo/Bob Roller
Help us expand our reach! Please share this article
PLYMOUTH -- After more than 30 years of prayers and anticipation, a delegation of 15 people from Blessed Kateri Tekakwitha Parish in Plymouth will travel to Rome to witness the canonization of their church's patron on Oct. 21.

"The excitement is palpable. I cannot tell you how excited the parishioners are. The parish itself is also celebrating its 30th anniversary this year. For 30 years we have been praying the canonization prayer for Blessed Kateri. For this finally to happen, it is an awesome excitement at the parish," said parish Deacon James F. Greer.

Blessed Kateri was of Algonquin-Mohawk decent and lived from 1656 until 1680. She became known for her virtue and chastity before she died at age 24. Pope John Paul II beatified her in 1980, and Pope Benedict XVI announced her canonization earlier this year. She is also called the Lily of the Mohawks.

Deacon Greer said the woman who struck out on a path of faith at her baptism on Easter Sunday of 1676 serves as an important role model for young people who face a culture that may not support them in their faith.

"The grace that she was and is to us today is awesome," he said.

The parish has also planned a series of Masses and blessings to celebrate before and after the canonization on Oct. 21.

The parish will welcome former pastor Father William Kremmell to celebrate Masses with Father Jack Schatzel on the weekend of Oct. 28. Father Schatzel served as the original pastor in 1982 when the parish was founded, with Father Kremmell succeeding him.

"We're bringing all 30 years of the parish back together," he said.

Two bishops will also celebrate Masses during the weeks close to the canonization. Bishop John Dooher will celebrate the Mass at the parish on Oct. 21, and Bishop Robert Hennessy will celebrate Mass on Nov. 4.

"To have both of those bishops involved, it's awesome," the deacon said.

"I think by bringing everybody together, it is a clear example of what community is and what we as Catholics should be doing," Deacon Greer said.

CatholicTV Network will broadcast the canonization Oct. 21 at noon and again at 8 p.m.