Choose Life license plates reach goal
---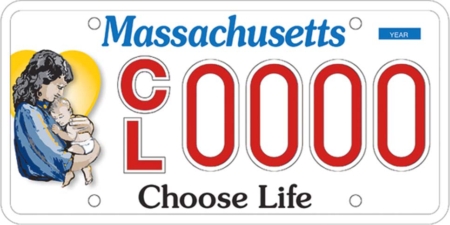 Courtesy graphic
Help us expand our reach! Please share this article
After a nine year journey, the Choose Life license plates reached their destination this summer. In August, the plates cruised past the goal of 3,000 on Massachusetts highways.

But Merry Nordeen, who championed the Choose Life license plates, does not have her eye on the rearview mirror. Her focus is on the road ahead. She and the Choose Life board members have nearly $100,000 to distribute to local crisis pregnancy centers.

That money had been saved up to replace the $100,000 bond, put up by an anonymous donor. The Massachusetts Registry of Motor Vehicles holds the bond until a total of 3,000 vanity plates are registered. Last month, the registry announced that Choose Life had 3,054 plates and that they would release the bond.

Over the past two years, the plates raised over $170,000, and 3,000 plates will bring in $60,000 annually.

In the past, Choose Life has funded Massachusetts Citizens for Life's Summer Academy for high school students and provided a matching grant for Boston's Walk to Aid Mothers and Children, previously held every October. The organization has also granted money to pregnancy resource centers and provided funds to their counselors and directors to attend training sessions.

"These centers, a lot of them, are in dire need of services, just basic services. But once they get the basic services, we can go into helping them hopefully go medical -- getting the ultrasound machines, hiring the medical personnel that's necessary for the sonogram machines. It just keeps going from there. The work is by no means done," Nordeen said.

Joanne Everson, executive director of Your Life Matters Pregnancy Health Center in Southbridge, Mass., said that Choose Life helped keep the center's doors open with a grant last December. In the middle of a move to a new location, the center encountered some unexpected expenses.

"I was sitting in my office one day, thinking, 'This is the day Joanne closed Your Life Pregnancy Center,' and I felt God nudging me to call Choose Life," she said. Choose Life responded with a grant.

Everson added, "It's just money, but you need to have it. It's vital. You can't do ministry without it, and to be able to have someone that I can turn to and say, 'Oh help, please.' And to be able to bless us that way was such a fantastic, unexpected and awesome blessing."

Choose Life also funded Everson's trip to a conference in Los Angeles last spring and training for the center's volunteers.

Melissa Flynn, a former director of a crisis pregnancy center and a current training coordinator, said speakers at the trainings have decades of experience in pro-life work. They are able to give the crisis pregnancy staff and volunteers knowledge they have gained.

"The Choose Life license plate is a tremendous blessing to Massachusetts pregnancy centers and those that benefit from the trainings," she said.

The plate's journey began when Nordeen heard about the first Choose Life license plates, introduced in Florida 12 years ago. She thought, "That's a great idea. I want that for my car." But no one in Massachusetts was working to bring the plates to the commonwealth. So Nordeen decided to give it a try. She started a corporation, secured non-profit status and began collecting registrations.

Many people told Nordeen it could not be done, that Massachusetts is too liberal and its pro-life forces too weak. After five and a half years of sending out mailings, attending conferences and building a list of supporters, Nordeen nearly ended her effort.

"The numbers were not there," she said. "My husband and I talked about it, we prayed about it and I said that we were going to try this one more time."

She put the campaign in God's hands and the renewed effort yielded new supporters. Many people came together to help with the legwork and offered prayers, rosaries and hours in adoration.

Massachusetts became the 25th state to offer the Choose Life plates when the plates hit the road in July of 2010. Each features a mother cradling her infant and the words "Choose Life." The cost of the plates is $90 every two years -- $50 is the usual registration fee and $40 a tax deductible donation. The first year, there is a $12 charge for the plate.

A simple trip to the Registry or Registry's website is all it takes, and there is no need to wait until your plates are due for registration.

Nationwide, the plates have raised over $14 million for Pro-Life causes.

Nordeen said she will continue to promote the Massachusetts plate and raise as much money as possible.

"I think they'll put it on my tombstone," she said and laughed. "I prayed that we would be at the point where we would have so much money we don't know what to do with it. That would be incredible."

For more information about the Choose Life plates, visit www.machoose-life.org.