Father McLaughlin of St. Joseph Parish, Medford becomes senior priest
---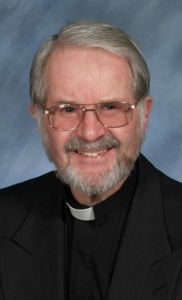 Father Patrick J. McLaughlin Pilot file photo
Help us expand our reach! Please share this article
Father Patrick J. McLaughlin is grateful for every one of his 51 years in the priesthood.

"Every parish, every experience I have had, has been unique and has contributed to make me a better person, I believe," he added.

"Being a parish priest, you are with your parishioners in the key moments of their lives. You get to shape them, and they get to shape you," he said.

Born in 1936 in Dorchester, Father McLaughlin was the sixth of nine children. His brother, Deacon James V. McLaughlin, serves at St. Bridget Parish in Abington.

A child of St. Mark Parish, he recalled that in the fourth grade, he already knew God was calling him to the priesthood.

Father McLaughlin was ordained in 1961 at Holy Name Parish in West Roxbury by Bishop Jeremiah Minihan. He was first assigned to St. John Parish in Peabody, where he remained parochial vicar for five years.

In 1966, Father McLaughlin entered the St. James Society and was sent to Santa Cruz, Bolivia, where he ministered to the Bolivian people for two years.

"I was in the jungle there. There were no schools where we were," he said. "It really opens your mind."

"People there are very gentle, very generous," he said. "They made up a real community in many ways -- with neighbors helping neighbors -- something that we really don't see much of here."

During his years in Bolivia, his former parishioners at St. John's in Peabody sent him $100 every month to help the people, he said.

"That was 50 years ago, remember, so that money really went a long way," he said.

Upon his return to the archdiocese, Father McLaughlin became parochial vicar at Our Lady of Lourdes Parish in Brockton. During his eight years at Our Lady of Lourdes, Father McLaughlin was instrumental in reaching out to the Hispanic community, beginning the St. Martin de Porres Center at the parish.

In 1976, he was assigned to St. Joseph Parish in Medford, where he has remained for the last 36 years, becoming moderator of team ministry in 1995 and then parish administrator in 2005. Cardinal Seán P. O'Malley granted Father McLaughlin senior priest/ retirement status June 5.

"[St. Joseph's] is wonderful," he said. "They have a wonderful school with over 500 kids, a great staff, and wonderful volunteers who make up all the different committees that help make the parish run smoothly and marvelously."

In addition to his work in the parishes, Father McLaughlin has also been a member of Emmaus, a priests' support group, for over 30 years. Every week, the nine priests who make up the Emmaus group gather together for prayer and fellowship.

After Father McLaughlin leaves St. Joseph's, he will be a senior priest in residence at St. Agatha Parish in Milton.

"I have been very blessed in my priesthood," Father McLaughlin said. "It's a blessing to be a priest."