Catholic Charities honors Rev. Gloria White-Hammond
---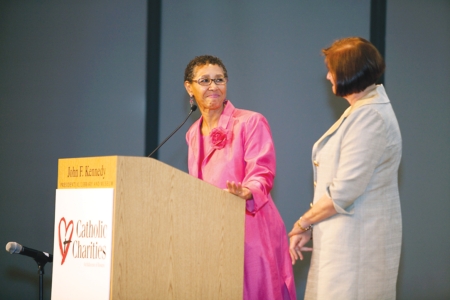 Rev. Gloria R. White-Hammond looks towards Catholic Charities President Deborah Kincade Rambo while addressing the audience after receiving the Justice and Compassion Award during Catholic Charities annual Spring Celebration at the John F. Kennedy Library and Museum in Boston May 17. Pilot photo/ Courtesy Suzanne Ouellette, Catholic Charities
Help us expand our reach! Please share this article
DORCHESTER -- The Catholic Charities Spring Celebration took on the theme of women on the frontline of the fight for social justice as it honored Rev. Gloria White-Hammond, the first woman to receive the organization's Justice and Compassion Award.

The annual fundraising event, held May 17 at the John F. Kennedy Library, was emceed by the Rev. Liz Walker.

"I am honored and humbled to be a part of this celebration with Catholic Charities this evening for many reasons. This is an amazing group of people, an amazing institution, and I am proud to co-chair with Mike Sheehan, because this year is the first year, as I understand, that you have honored a woman," Rev. Walker told the 350 attendees.

"My call to ministry is inextricably tied to Ray and Gloria, because God called them and they called me," Rev. Walker said.

The former Boston television news anchor became a minister in 2005, inspired by Rev. White-Hammond and her husband, Rev. Raymond A. Hammond, co-pastors at Bethel African Methodist Episcopal Church in Jamaica Plain.

Rev. White-Hammond built a creative writing and mentoring ministry called "Do the Write Thing" in 1994, to serve high-risk, young women at her Bethel AME Church. The ministry now helps girls in Boston public schools, juvenile detention facilities and at the church in Jamaica Plain.

Over the years Rev. White-Hammond, who is also a pediatrician, has traveled multiple times to minister in African conflict-zone nations including Sudan, Darfur and Chad. She served as the national chairperson of the Million Voices for Darfur campaign in 2006, and as national chairwoman of the Save Darfur Coalition from 2008-2009.

In 2002 she co-founded My Sister's Keeper, which established three sub-groups to address some of the challenges facing Sudanese women trying to rebuild their communities:

-- The Sisterhood for Peace initiative, which supports Sudanese women in the country and throughout the world to promote peace in the country by collaboration across traditional boundaries of race, religion, ethnicity and geography;

-- The Kunyuk School for Girls, a primary school of 525 girls in Akon, currently focused on recruiting, training and developing competent teachers to prepare Sudan's next generation of women leaders; and

-- The Women's Peace School, which provides 200 women with adult literacy services in the same town in Sudan.

Spring Celebration attendees received a brief introduction to Rev. White-Hammond and her work in a video, shown as part of the evening.

"I really like this mantra that well-behaved women rarely make history, and so I think that a strong woman is one who is a misbehaving woman, who doesn't accept the status quo, who won't accept 'no,' who stands on the side of justice, who will fight for justice," said Rev. White-Hammond in the video.

Following the video presentation, Boston Public Schools teacher Stephanie Alves spoke of the influence the Catholic Charities Teen Center at St. Peter's in Dorchester has had upon her life.

"I stand here right now before you as a testament to Catholic Charities' good work. I attended the teen center years ago, a program of Catholic Charities. The teen center helped me become the person that I always dreamed of being. That is: an advocate, an example for my community, and one who serves the youth," she said.

Alves started her first job at 12 years old, started an all-girls radio station as a teenager, and served as a neighborhood coordinator and liaison to the Cape Verdean community in Boston for Mayor Menino from 2008 through 2010.

Then, receiving the Justice and Compassion Award from Cardinal Seán P. O'Malley, Rev. White-Hammond took the podium, thanking Catholic Charities, her husband, and others, as well as her congregation members who "give me license to get in the pulpit and misbehave every now and then."

Rev. White-Hammond took the attention off of herself, as she invited a group of Sudanese women at a table in the back of The Smith Hall dining room to stand during her acceptance speech.

"Their governments call each other enemies, but they call each other sisters. Together they have determined that they simply will not countenance the ongoing, systematic victimization of women and girls as pawns in a deadly war game. No more. These are misbehaving women," Rev. White-Hammond said.

In his remarks, Cardinal Seán P. O'Malley expressed support for the work of Rev. White-Hammond, and all the women at the event.

"I know that I interpret the sentiments of everyone here when we say that we want you to keep on misbehaving," he said.

He also thanked the volunteers and board of Catholic Charities, before delivering a blessing to close the evening.

"We knew when we were honoring Gloria, as the first woman to receive the Justice and Compassion Award, that it would make the night a little bit special," Rambo told The Pilot, following the event.

Rambo said she was not surprised when the evening took a sharp focus on celebrating women in leadership roles.

"It gave us an opportunity to talk about women, their contributions, and the kinds of means and opportunities that women have. We were glad to be able to do that," Rambo said.

According to organizers, the event pulled in more than $1 million with more donations still coming in as of press time.

"We are thrilled to be over the million dollar mark. Every one of those dollars we need, to be able to provide the services that we offer, so it is a great night," Rambo said.