Father Henry Jennings granted senior priest status May 8
---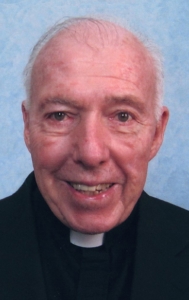 Father Henry Jennings Pilot file photo
Help us expand our reach! Please share this article
"My whole life as a priest is the best thing that's ever happened to me," mused Father Henry Jennings, pastor of St. Joseph Parish in Somerville. "As I look back on my priesthood, there is nothing I would ever change," he said.

Father Jennings was granted senior priest status by Cardinal Seán P. O'Malley, effective May 8. He leaves behind a parish he has served for 45 consecutive years.

"That's got to be some kind of record," he joked.

Having been at St. Joseph since 1966, Father Jennings has walked alongside many of the families in his parish -- partaking in their joyous events, such as baptisms and weddings, and helping them through difficulties such as illness and loss.

"It's difficult leaving them because it's like leaving family behind," he said.

"They are family to me," he stressed. "They aren't parishioners, they're family."

Father Jennings was born July 3, 1930 in Allston. As a child he and his family attended both St. Anthony Parish in Allston and St. Aiden Parish in Brookline.

Not initially drawn to the priesthood, he graduated in 1952 from Boston College with a degree in economics. Shortly after graduation, he was drafted into the Korean War and served two years in the U.S. Army.

After the war, he worked for two years in New York City before returning to his hometown. It was upon his return home that he met Father Leonard Koppenrath, pastor of St. Aiden Parish in Brookline.

"He really got me thinking about the priesthood," recalled Father Jennings.

In 1957, Father Jennings entered the seminary and was ordained five years later on Feb. 2, 1962 at St. Catherine of Siena Parish in Norwood.

His first assignment was at Our Lady of Good Counsel in Quincy, where he remained for two years. He was then transferred to St. Matthew Parish in Dorchester. Two years later, he moved for the last time to St. Joseph Parish in Somerville.

In 1992, Father Jennings became pastor at St. Joseph Church.

"I really love these people," he said, adding that he is grateful for the friendships that have been forged at St. Joseph's over the years.

Father Jennings is currently living at Regina Cleri where he is receiving therapy for a fall he had two months ago. He plans to continue living at Regina Cleri until he recovers.