From Cardinal Seán's blog
---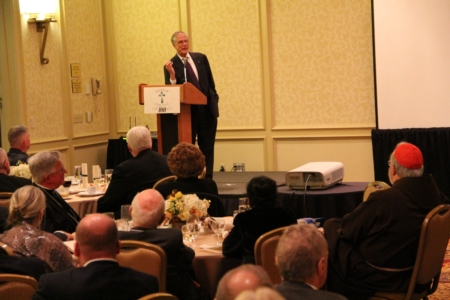 'That afternoon (10/29), I had the annual White Mass with the members of the Guild of St. Luke... The evening program featured Dr. John Haas, president of the National Catholic Bioethics Center.' Pilot photo/CardinalSeansBlog.org
Help us expand our reach! Please share this article
Hope for a Healthier Humanity awards

Last Thursday (10/27) I was in New York for an event to support the organization Hope for a Healthier Humanity, which works to aid the poor in Central America, particularly in providing health care and other human services. I was honored during the evening with the organization's John Cardinal O'Connor Global Health Award, along with Dr. Jeffrey Freed of Mt. Sinai Medical center who received the HHH Humanitarian Award. I was very happy to be a part of their celebration and to be able to support this very crucial work that's being done in Honduras and other countries in the Caribbean and Central America.

Gathering with archdiocesan priests

On Friday (10/28), I spent much of the day with my brother priests of the archdiocese. In the afternoon, I attended a luncheon for about 70 mostly senior priests organized by Bishop John Dooher at Lombardo's in Randolph. We had a wonderful time, including a sing-along with Father Paul Rouse playing the piano. Then that evening I attended a dinner at St. Mark's in Dorchester with Father Dan Finn, organized for the priests working in his vicariate. This was another large gathering, with maybe 40 priests or so.

Archdiocesan Justice Convocation

On Saturday morning (10/29), we had our 3rd Annual Archdiocesan Justice Convocation. There were over 200 people in attendance. It was wonderful to see so many people enthusiastic about the Church's social gospel. As in its' first two years, the convocation was again very successful. Father David Couturier, Sister Marian Batho, Father Bryan Hehir, members of the archdiocesan Pastoral Council and Mary Ann McLaughlin all lent their talents to making the day a success. We are very grateful them and to all of those who worked on organizing this event.

Annual White Mass

That afternoon (10/29), I had the annual White Mass with the members of the Guild of St. Luke, an organization for Catholic physicians and other health care workers. This year they are celebrating the 100th anniversary of their founding of the the guild in the archdiocese. As I appealed to the Lawyers' Guild at the Red Mass, so I appealed to the physicians to work to prevent the legalization of physician assisted suicide in Massachusetts. Dr. Helen Jackson, the president of the guild, and all the doctors were very supportive.They had a day of speakers and programs. The evening program featured Dr. John Haas, president of the National Catholic Bioethics Center, who gave an extraordinary exposition of some history of medical ethics starting with the Hippocratic Oath. He gave a beautiful picture of the Catholic concept of medicine, which sadly, contrasts with ideologies prevalent today. However, he asked the Catholic doctors to remember Hippocrates and, of course, the Divine Physician, Jesus Christ.