Respect Life Walk raises funds for pro-life causes
---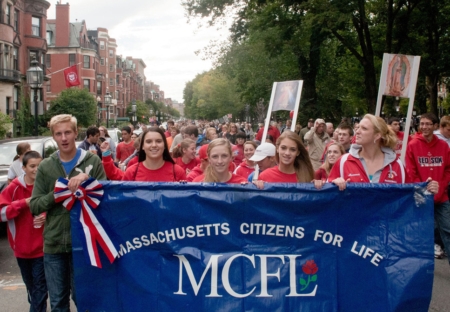 Led by members of the Burlington High School pro-life group, thousands of pro-lifers walk through the streets of Boston at Massachusetts Citizens For Life's annual Respect Life Walk to Aid Mothers and Children Oct. 3. Pilot photo/Jim Lockwood
Help us expand our reach! Please share this article
BOSTON -- "I want every pro-life person out there, especially the young adults, to know that you can do huge things, regardless of age," said Matthew Hanafin, Massachusetts Citizens for Life's youngest board member, at the annual Walk to Aid Mothers and Children Oct. 3.

Several thousand pro-life advocates gathered at the Boston Common bandstand on Respect Life Sunday to hear speakers at a rally before the 5K walk.

Hanafin, 20, is a sophomore at Merrimack College and co-chair of the MCFL's Burlington chapter. He graduated from Burlington High School, which is currently the only Massachusetts public school with a club dedicated to the pro-life cause.

He said of the club's representatives in attendance, "They are here today to show that the pro-life movement is not going anywhere."

"There are more pro-life youth than ever before. As young adults, we are going to prove to the world that we are not going to sit down and shut up. We are no longer going to be the silent majority," he told the crowd. "In high school and in college, I was and still am willing to be the most hated person in my classroom as long as I'm standing up for the truth."

He encouraged all pro-life people to educate themselves on the issue and not shy away from confrontation. He called abortion "the greatest injustice this country has ever seen."

In a message read by Marianne Luthin, director of the Archdiocese of Boston's Pro-Life Office, Cardinal Seán P. O'Malley called pro-life youth an "encouraging sign of hope." Cardinal O'Malley was unable to attend because he was in Rome at the request of the Holy Father.

This year, Respect Life Month is dedicated to the theme, "The measure of love is to love without measure." Cardinal O'Malley said that to love without measure is to love as God does. He thanked attendees for their public witness and commitment to life.

Father David Mullen, pastor at St. Brendan Parish in Bellingham, announced from the podium, "The anti-life movement is doomed."

He led a prayer where he asked God to "embolden" pro-lifers and to strengthen the movement. He prayed that all life be respected in the culture and in our laws.

As the rally ended, everyone lined up to begin the walk. Many carried banners with the name of their parish, youth group or other organization. Others carried signs with pro-life messages. One sign with a picture of an unborn child on it said, "They don't have a voice or a choice." A little girl carried a sign that said, "I am a child, not a choice."

During the first part of the walk, the route passed by a dozen or so protesters who support abortion. They had their own signs that said, "Trust women" and "No mandatory motherhood." While they chanted, "What do we want? Choice. When do we want it? Now," the marchers drowned them out with their own chant, "What do we want? Life. When do we want it? Now."

The walk, run by MCFL, supports many organizations that put pro-life advocacy into action. Many assist mothers who might otherwise choose abortion. Anne Fox, president of MCFL, said the walk this year was a big success and attracted many young children.

"I, personally, like to see the strollers," she said. "Each year for the past three or four years there have been more strollers than the year before."

Marie Hines, a parishioner at St. William Parish in Tewksbury, said she brought five of her six children to the event because she wanted to teach them "not to be afraid to stand up for something you believe in."

Katelyn Cossette, 15, a member of the newly formed Burlington High School Pro-Life Club, said that she is proud of the new group and encourages other students to start clubs at their schools.

"It gives us a reputation that we want to do good things," she said.

Several dozen youth from Holy Family Parish in East Taunton attended the walk as well as a special youth rally, sponsored by the Archdiocese of Boston, that morning. Their presence, marked by their bright orange shirts, was impossible to miss.

Sarah Couto, an 8th grader from the parish, said that she attended the walk because marching had a purpose.

"What if my mother had an abortion? I wouldn't be here," she said.

Olivia Ribero, also in 8th grade, said that she hoped women would see the pro-life crowd and never choose to abort their children.

"I think people deserve to live," she said simply.