Blessed John Lawn Party is homecoming for new bishop
---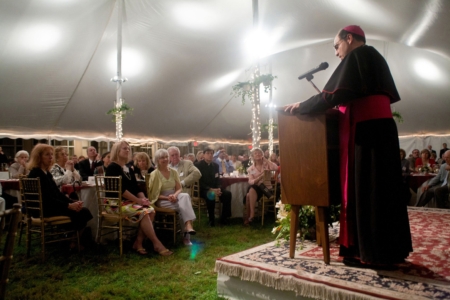 Bishop Peter Uglietto addresses the guests at Blessed John XXIII National Seminary's annual Lawn Party held on the seminary's Weston campus Sept. 22. Bishop Uglietto, who was rector until being named a bishop by Pope Benedict, was the guest of honor at the seminary's annual gala. Pilot photo/Jim Lockwood
Help us expand our reach! Please share this article
WESTON -- Seminarians and friends of Blessed John XXIII National Seminary warmly welcomed back recently ordained auxiliary Bishop Peter Uglietto, their former rector, at the seminary's premier fundraiser Sept. 22.

Bishop Uglietto was the guest of honor at Blessed John XXIII's 29th annual Lawn Party. This year, the event raised $250,000.

During his remarks, he reminded everyone of the importance of vocations in furthering the mission of the Church, and thanked donors for their support, which makes the work of the seminary possible.

Bishop Uglietto served as rector of Blessed John XXIII, a seminary for older candidates who have decided to become priests after prior professional careers, from 2005 until this year. He was ordained a bishop on Sept. 14 and became regional vicar for the Archdiocese of Boston's North Region.

He was congratulated by the record-setting number of attendees on a receiving line as they made their way to the party tent that housed the event.

New rector Father William Palardy welcomed the crowd, which included bishops from neighboring dioceses who send seminarians to Blessed John, other Boston auxiliary bishops, former rectors, alumni, friends and current seminarians.

During his remarks, Father Palardy announced that the recently-created Bishop Peter Uglietto Society has raised about $75,000 to support the work of the seminary.

With Bishop Uglietto's birthday falling just two days after the event, Father Palardy presented the former rector's mother, Dolores, with a bouquet of flowers "for giving Bishop Peter to us."

Father Palardy also announced that this year, Blessed John XXIII defeated rival seminary St. John's of Brighton by a 13-5 count in the schools' annual softball game.

"Our men might be a little bit older as far as seminarians go, but they still have a lot of life in them," Father Palardy said to the laughter of the crowd, which included St. John's rector Bishop Arthur Kennedy.

The speaking portion of the program continued with personal testimony from two current seminarians -- John Healy of the Archdiocese of Boston and Mike Bodzioch of the Archdiocese of Denver -- on how they discerned their priestly vocation later in life.

Seminarians from the Archdiocese of Boston rejoiced in their former rector's appointment to the episcopacy and were delighted in his return for the evening.

"I know him very well and he's got a great heart," said Paul Fallon, a Class of 2013 seminarian for the Archdiocese of Boston. "I have all the confidence in the world in him."

Laurence Tocci, of the Class of 2014, is a member of St. Patrick Parish in Stoneham, which is part of Bishop Uglietto's region.

"I'm excited," Tocci said. "He's already in my home parish."

Seminarian John Healy, of the Class of 2012, spoke to the significance of Bishop Uglietto's appointment.

"We're in an historical moment now, not only for the seminary, but for all Italians," said Healy.

Bishop Uglietto is only the second Italian-American to be named an auxiliary bishop of Boston. The last bishop of Italian heritage was Bishop Joseph Ruocco, auxiliary from 1975 to 1980.

The last rector of Blessed John XXIII to become a bishop after serving as rector was Bishop John Mulcahy, auxiliary bishop in Boston from 1975 to 1992.