Obituary: Father Antonio Andrade, native of the Azores, dies at 71
---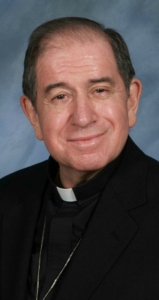 Father Antonio Andrade Pilot photo
Help us expand our reach! Please share this article
Father Antonio L. Andrade, a priest of the archdiocese since his incardination on Oct. 24, 1980, died in Hudson on Aug. 4 where he had been living since his retirement in 2006.

A native of Flamengos on Faial Island in the Azores where he was born on Nov. 6, 1938, he was one of the children and a son of the late Antonio and Maria (Macedo) Andrade. Following elementary, secondary and seminary studies, the young Antonio was ordained to the priesthood in his native Azores on April 28, 1963 by the Most Rev. Manuel Carvalho in the Cathedral of the Savior in Angra, Azores.

Eleven years later he arrived in the archdiocese and was assigned as an associate at Immaculate Conception parish in Stoughton, where he ministered faithfully for the next nine years. The parish is home to a large Portuguese speaking community. Appreciating the need for native Portuguese speaking priests who would serve not only immigrants from Portugal and the Azores, but also increasing numbers from Brazil, he became a priest of the archdiocese in 1980.

In the ensuing years he was assigned at several archdiocesan parishes and often combined additional responsibilities especially in health care ministry with parish assignments. Following Stoughton, he went as an associate to St. Anthony of Padua, Lowell (1983-1984). From 1985 to 1989 he was chaplain at the now shuttered Massachusetts State Hospital in Waltham. He was named chaplain at Mattapan Chronic Care Hospital and at the Nursing Facilities in St. Gregory Parish, Dorchester serving from 1989 to 1996, during this assignment he lived in residence at St. Gregory Rectory. From 1996 to 2001 he was a parochial vicar at St. Michael Parish, Hudson. Later in 2001, he was granted a health leave, which lasted until his retirement in 2006.

Retired Auxiliary Bishop Francis X. Irwin was scheduled to be the principal celebrant of Father Andrade's funeral Mass on Aug. 12 at St. Michael Church, Hudson. Father Vincent Gianni, pastor of St. Florence, Wakefield was the homilist and among the concelebrants were Father Ronald Calhoun, present pastor of the Hudson parish; and two friends of Father Andrade -- Xaverian Missionary Father Anthony Lalli, and African Mission Father Julius Chalenga.

Father Andrade's immediate survivors are two sisters: Angela Brum, Bristol, R.I. and Maria Barcelos, Terceira, Azores and several nieces and nephews both here in the U.S. and in the Azores. Following the funeral Mass Father Andrade was buried in St. Patrick Cemetery, Lowell.