From Cardinal Seán's blog
---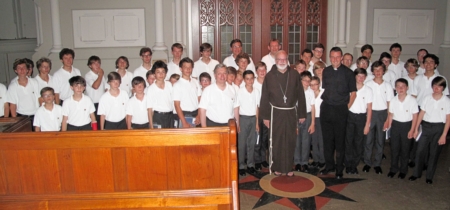 "Friday evening (July 16), there was a concert by the Paris Boys Choir at the Cathedral. The concert was stunning." Pilot photo/CardinalSeansblog.org
Help us expand our reach! Please share this article
Last Friday (July 16), I was the main celebrant at the funeral of Father Jim Field, the pastor of Incarnation Parish in Melrose, who had been battling cancer for many months.

Many parishioners were able to come to the Mass at his parish church.

It was a Friday morning, but the church was packed. Many priests accompanied me.

He was a great example of courage and faith as he prepared for death. I gave him the sacraments when I visited him in the hospital a few weeks ago. We had a wonderful visit. We were able to pray and talk together.

His parishioners were very, very supportive of him throughout his long illness.

He will be sorely missed, but fondly remembered.

Concert at the cathedral

Friday evening, there was a concert by the Paris Boys Choir at the Cathedral.

They were from Neuilly-sur-Seine in Paris. They call them Les Petits Chanteurs de Sainte-Croix de Neuilly.

The concert was stunning. The choir, I think there were about 50 or 60 boys, performed beautiful polyphonic music in Latin and French.

They sang music by composers such as Palestrina, Victoria, Bach, Mozart, and French composers Faure, Poulenc, Durufle and Franck.

While here in the United States, they performed at St. Paul in Cambridge, as well as New York and Washington.

Wedding

On Saturday, I officiated at the wedding Mass of Peter Lynch's youngest daughter at Our Lady Star of the Sea Parish in Marblehead.

Peter Lynch's daughter Elizabeth married a French count, Gonzague de Montrichard, a very fine Catholic gentleman.

Peter Lynch, a Fidelity executive, has been involved in the Catholic Schools Foundation and is a promoter of Catholic philanthropy.

The wedding was very beautifully executed. The boys from our choir school at St. Paul in Cambridge sang. The reception was at the Lynch's home. The dinner was preceded by spectacular fireworks -- they could have been in Washington, D.C. at the mall for the Fourth of July! There was 40 minutes of music in the background, and the fireworks show was over the water. It was quite amazing.

I didn't stay for the dinner, which started quite late -- about 10:00 p.m.

I was very happy to meet many of the groom's family. About 60 of his family came from France.

Peter and Carolyn Lynch were radiantly happy with the wedding, which was good to see. They do so much to help so many people.

Jury duty

On Wednesday, for the second time since being named archbishop, I was called for jury duty.

I reported with my fellow prospective jurors and we first listened to a presentation given by one of the judges to prepare us for jury, and then there was a video presentation.

I was not chosen to sit on a jury. I guess they didn't need me!

In Massachusetts there is a system where people are called to serve on a jury for one day or for one trial. Of course, that means there is a fairly heavy turnover and people are called frequently.

I haven't been selected to sit on a jury either time I have been called, which is too bad. I was looking forward to serving. Jury duty is an important civic responsibility, in order that citizens have the opportunity to have their cases heard by fair minded peers. We should remember that if it was our case being heard, we would want good people on the jury, and so we should respond to this important call to service as it is asked of us.