From Cardinal Seán's blog
---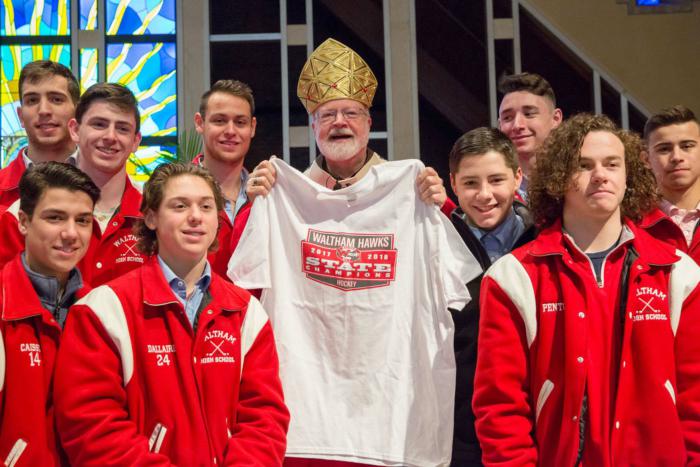 ''It was very nice that the students from the high school who are part of the parish came to the Mass. Also with us were players from Our Lady's Academy boy's CYO basketball team, who also had a great season. Afterwards, the two teams presented me with T-shirts!'' Pilot photo/CardinalSeansBlog.org
Help us expand our reach! Please share this article
Palm Sunday

This past Sunday was Palm Sunday (3/25) and, as is my usual practice, I went to celebrate with one of our parish communities. This year, I celebrated Palm Sunday with Our Lady Comforter of the Afflicted Parish in Waltham.

It was a beautiful celebration with quite an enthusiastic crowd. There was a wonderful performance by their children's choir, and the Knights of Columbus and the different parish groups were present with us. Perhaps the most interesting thing was that members of the hockey team at the local public high school, Waltham High, who had just won the state championship, were there with us as well. It was very nice that the students from the high school who are part of the parish came to the Mass. Also with us were players from Our Lady's Academy boy's CYO basketball team, who also had a great season. Afterwards, the two teams presented me with T-shirts!

Meeting with different groups at the Cathedral

Later that day (3/25), back at the Cathedral, I had a chance to meet with a couple of different groups.

The Legion of Mary was holding their gathering for the Acies, at which they renew their consecration to the Blessed Mother, so I renewed mine with them. I've always had a great devotion to the Legion of Mary and their founder, Servant of God Frank Duff... They did so much apostolate in the parish and were quite a force. So, I was happy to be able to join them for their meeting at the cathedral.

And then, later, we had a group of Hispanic young people from different parishes who came to share with me some of their hopes and aspirations. Several years ago, Father Michael Nolan started bringing this group of youth from St. Mary Parish in Waltham to meet with me at the Cathedral. They have continued the tradition, and now they have invited youth from several other parishes to join them as well.

Annual Chrism Mass

Tuesday (3/27), we held our annual Chrism Mass at Immaculate Conception Church in Malden. We are very grateful to Father Al Capone and the people of Immaculate Conception for hosting us this year because the lower church in the Cathedral would not be large enough to accommodate the Chrism Mass.

We were so pleased to be joined by Metropolitan Methodius who was there to greet the priests at the beginning of Mass and join us for the rest of the celebration.

The Chrism Mass is the occasion on which we bless the holy oils that will be used to administer sacraments throughout the year.

Funeral Mass for Father Dever

Wednesday morning (3/28) I went to celebrate the funeral Mass of Father Dennis Dever. His last assignment was as pastor of St. Clement's in Somerville, where he was pastor for almost 30 years. Father Dever had also been the superior of the St. James society and worked in Ecuador himself.

He was very devoted to the people of his parish and also the missions. I was very pleased to be able to celebrate his funeral Mass in the presence of his sisters, family, friends and former parishioners.