Forming the Future: 'Building' knowledge at St. Mary of the Annunciation School, Melrose
---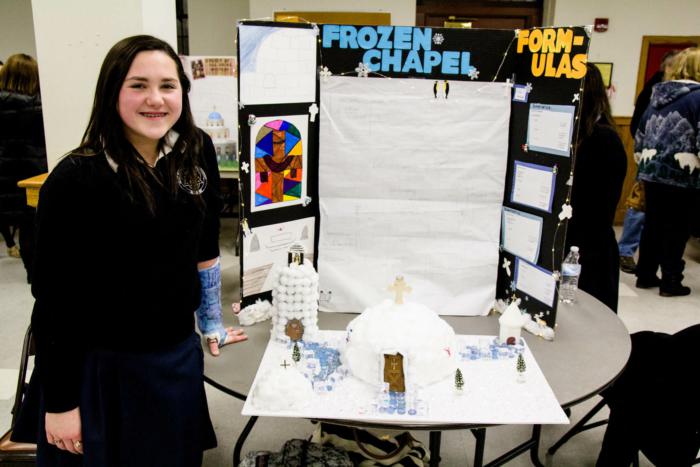 Khloe Camblin shows of her model of the 'Frozen Chapel' Jan. 30. Pilot photo/Mark Labbe
Help us expand our reach! Please share this article
MELROSE -- A single person stands in an empty chapel. Lined up behind him are rows of pews, and in front of him, an altar, huge and wooden, white flowers ordaining one side. Stained-glass faces peer down from the walls as he stands there, immobile.

Outside, on the edge of the green chapel grounds, benches form a crescent around a massive cross. An elderly couple, seated side-by-side on one of the benches, gaze at the cross, quiet and still in prayer or thought. In the forest behind the chapel, in the glow of tiny lights that bloom up out of the forest floor, a deer stands frozen beside a tree.

It's a moment of peace, serenity, at the Chapel of Tranquility. It's a perpetual moment, as the chapel, the size of a dollhouse, and everything on its grounds is glued in place.

Constructed mainly of cardboard, paper, popsicle sticks, and dollhouse items, the chapel, created by Eavan Flood, an 8th-grader at St. Mary of the Annunciation School in Melrose, was the culmination of months of planning and weeks of building. It was her own design, inspired by trips she has taken with her parents to Ireland.

Displayed in the hall of St. Mary of the Annunciation Church, Jan. 30, Flood's chapel, though unique, was not alone. Dozens of tiny churches filled the church hall, as their creators, proud and smiling St. Mary School 8th-graders, stood nearby, patiently waiting to explain their constructions to the many parents and family members milling around the room.

For a number of years now at St. Mary, the entire 8th-grade class is given a joint project between their mathematics and art classes. The project, combining skills learned in both classes, always involves the designing and the eventual building of a scale model, explained mathematics teacher Mark Flint, standing to the side of the church hall as students and parents talked and moved around the room.

The type of structure that the scale model is meant to represent changes from year to year; one year it was airports, another year it was houses, and this year it was churches, Flint said. Each year's theme is actually partially determined by the incoming 8th-grade class, as students offer suggestions that Flint and art teacher Lena Caruso pour through before picking one.

Beginning in September, the start of the school year, the projects take months for students to actually complete. In the case of the churches this year, students worked through a number of steps, that involved developing an idea for a church, writing about it, sketching it, creating a mathematically-accurate blueprint of it, then finally building the church, adhering to the blueprint.

It's a lot of work, said Flint, but, due to the multi-step process of the project, "is a good step before they go to high school," where large projects are more common. Caruso, standing next to Flint, agreed.

Looking around the hall, both he and Caruso said they felt that this year's projects were some of the best they had ever seen, adding that the students were excited to do the projects and worked hard on them.

Models of all different shapes, sizes, and colors filled the hall, with no two churches alike.

One church, designed by Paul Simko, was in the shape of a Greek cross, resembling a plus-sign. Red, with a Celtic cross zigzagged into the "lawn" it sat on, the church was inspired by trips to Vermont that Simko had taken with family. That's where it would be located, he said. It's a beautiful area, "and a "perfect place to put a church," he said.

Khloe Camblin put her chapel, dubbed Frozen Chapel, in Alaska. It looked like an igloo, with a domed roof that was covered in cotton balls for snow. The top can be lifted off the chapel, and inside is an altar and pews and statues of St. Gabriel and the Virgin Mary. A bell tower stands near the chapel, as well as a small pointed building that Camlin said was a bathroom. "Don't worry," she joked, "it's heated."

Principal Corinne Harutunian, who was running a separate event that night at the school, checked in at the church hall briefly. She said she hadn't had the time to fully look at the finished projects yet, but has always enjoyed seeing them in the past.

"When I come over here, I have to have a good hour to spend, because they all have things to say" about the projects, she said of the students. "It's wonderful."

The school recently began a STEAM initiative this year, which Harutunian said makes the annual projects even "more significant."

"I'm very proud of this project," she said. "But, I'm very proud of everything the school has done this year."