Syrian bishop finds ecumenical solidarity in Boston
---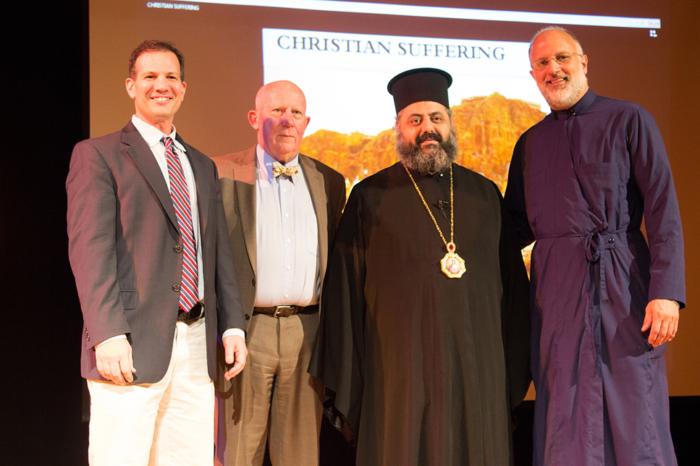 Vito Nicastro, associate director of the archdiocese's Office for Ecumenical and Interreligious Affairs; Rev. Dr. Rodney Petersen, executive director of the Boston Theological Institute; Bishop Elias Toumeh, Antiochian Orthodox Bishop of Pyrgou; and Rev. Luke Veronis, Director of the Missions Institute of Orthodox Christianity at Holy Cross Greek Orthodox School of Theology are pictured at Costas Consultation of the Boston Theological Institute, March 28. Courtesy photo
"Hello, Bishop? Would you mind picking up two prisoners, driving them alone behind enemy lines into a war zone, and completing a prisoner exchange for two kidnapped Christians?" This paraphrases part of the experience related by His Grace Bishop Elias Toumeh, Antiochian Orthodox bishop of Pyrgou in Syria, to an academic convocation March 28 in Brookline which was also an ecumenical gathering of Christians united in listening to his peoples' plight.

Hostage exchange is not even the most heartbreaking part of his ministry as a Syrian bishop. When his phone rings, he does not know if it is another request to come and collect the body of one of his flock. "In the last three years, I learned what it means to be a bishop. It is about being ready to be sacrificed at any moment for the people."

And his people were the centerpiece of the message, in my impression. The message Bishop Elias brought was Jesus, as witnessed in the life of the Christians of Syria. "We have no enemies. We carry no weapons." His church instead has become a relief center trying to cope with needs ranging from traumatic stress among children to hygiene supplies. They have built a Peace Center for Children -- children of many Christian and non-Christian backgrounds. "We teach them to care for each other."