From Cardinal Seán's blog
---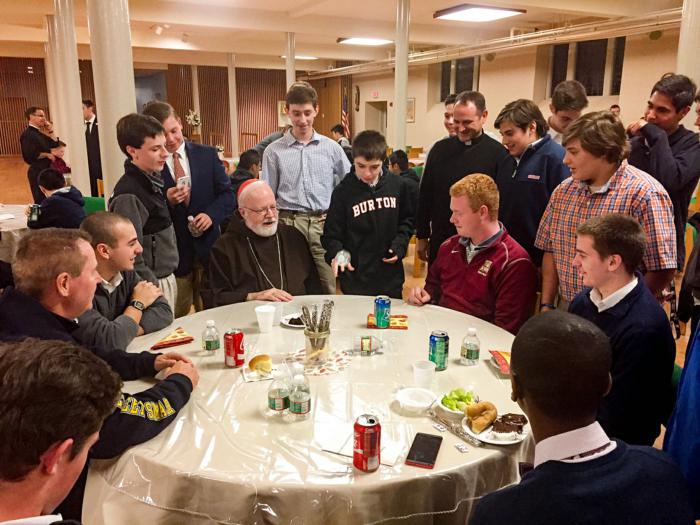 'During the evening, one of the young men challenged me to the 'bottle flip.' He did it very well, but I tried three times and failed each time!' Pilot photo/CardinalSeansBlog.org
On Sunday (10/23), I went to Hopkinton to celebrate a Mass for the 150th anniversary of St. John the Evangelist Parish there. A number of priests who had been stationed in the parish were with us for the celebration, including, of course, Father Richard Cannon, the current pastor.

There was a wonderful music program and the choir was just extraordinary. I was very interested in this history of the parish, which they call, "the Cathedral in the Woods." The founding pastor, who is buried in the parish, was an Irish-American from Roxbury but the parish, of course, sprang up at a time after the Famine when a number of Irish were coming from Ireland to the Boston area. There was a boot factory in Hopkinton where many of the immigrants were employed. It is amazing that parishioners built this extraordinarily beautiful church, working on it themselves. After many hours of working at the boot factory, they would go to the local quarry and cut the stones that were used to build the church -- and it is a stunningly beautiful building. It is a great tribute to the faith of the people who were there at such a difficult time. Today, the parish continues to flourish.

St. Andrew's Dinner

That evening (10/25), I went to Sacred Heart Church in Quincy for one of our periodic St. Andrew's Dinners for young men considering a vocation to the priesthood. Father Lou Palmieri was our gracious host for the evening.