Catholic Memorial's urban farm will integrate science, technology and social justice
---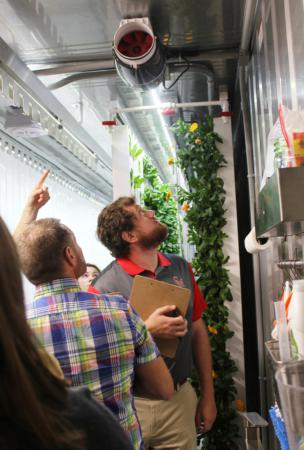 Catholic Memorial science teacher Brad O'Brien (center) is pictured at a recent Freight Farm training session. Pilot photo/courtesy Susan Griffin, Catholic Memorial High
Tucked beneath the massive old Edison power plant, which has loomed over South Boston for decades, is Freight Farm. The startup company modifies shipping containers to build hydroponic farms, in which plants and vegetables can grow virtually anywhere. Freight Farms was co-founded by Jon Friedman and Brad McNamara, who started their company in 2010.

One of those containers will make its home at Catholic Memorial School in West Roxbury, beginning this fall. In addition to providing an innovative and experiential learning program for CM students, the Freight Farm will serve to fulfill the school's mission to help take care of the basic needs of others; in this case, by providing students with the opportunity to study cutting-edge methods and economical means for growing food that can be supplied to local families and food banks.

"CM's new hydroponics lab provides a tangible way of integrating science/ ecology/ environment with Jesus' call to be in solidarity with our neighbors in Boston and beyond who live on the margins," said Theology Department Chair Michael Corso. "As we grow food in the freight farm, we can grow in our theological understanding of how to better serve those who are economically and socially disenfranchised."