Catholic school retirees honored for years of service
---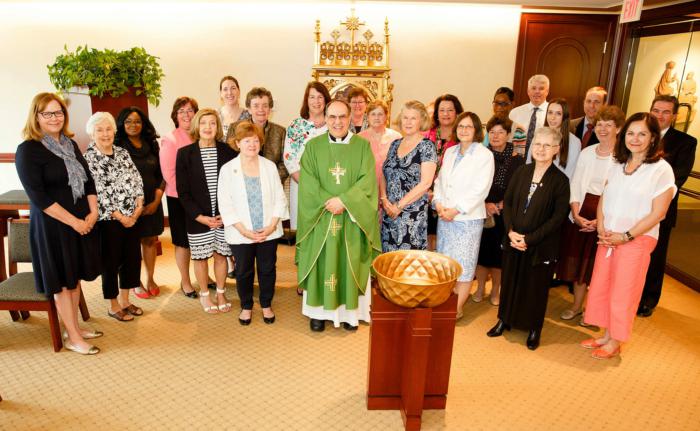 Vicar General Bishop Peter J. Uglietto poses with Catholic school retirees, school administrators and representatives of the archdiocese's Catholic Schools Office following Mass at the Pastoral Center June 9. Pilot photo/Gregory L. Tracy
BRAINTREE -- It's not leaving her fellow teachers that's troubling Charlotte Flynn about retiring from St. Augustine in Andover after 22 years of working as a kindergarten teacher, it's leaving her students.

"That's going to be the hardest part, because you see them, you watch them grow, and we are going to miss them," she said to the nods of school nurse Maureen Emde and math teacher Christina Meaney, who are also retiring from St. Augustine this year.

"It's all about the kids... that's the tough part, to leave them, because they're family," Meaney echoed.

The three St. Augustine employees were part of a group of 11 Catholic school teachers, administrators, and staff from around the Archdiocese of Boston retiring this year after a combined 318 years of service to the Catholic school system.

To honor their years of commitment to Catholic education, the archdiocese's Catholic Schools Office hosted a reception for the retirees at the Pastoral Center in Braintree June 9. A Mass celebrated by Vicar General Bishop Peter J. Uglietto was held prior to the reception.

In his homily, Bishop Uglietto told about how when he was a young priest, he attended an ecumenical gathering on Boston Common. He said he spoke with a public school teacher during the gathering, who told him, "We spend so much time educating the mind, but so little time educating the heart."