Seminars aim to clarify new annulment process
---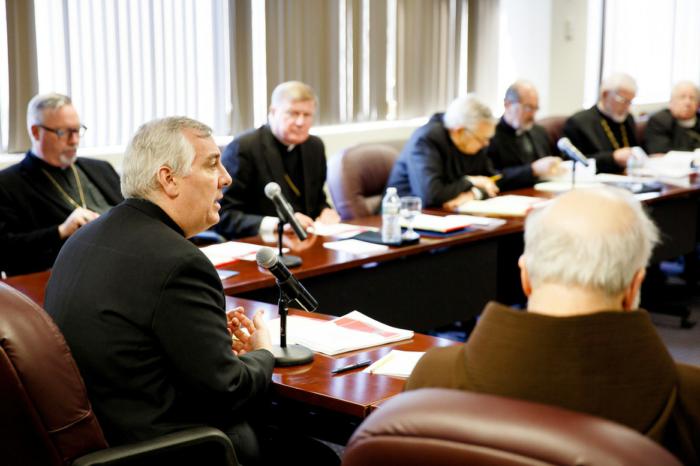 Judicial vicar Father Mark O'Connell addressing the bishops of the Boston Province on changes to the annulment process, April 20, 2016. Pilot photo/Greg Tracy
BRAINTREE -- To help clergy, pastoral staff, and laypeople understand the changes Pope Francis' 2015 motu proprio, "Miti Iudex Dominus Iesus," made to the annulment process the Metropolitan Tribunal of the Archdiocese of Boston, headed by Judicial Vicar Father Mark O'Connell, has been holding seminars explaining the process across the archdiocese.

There have been a total of around 20 seminars, with the first round of about 10 geared specifically to clergy and pastoral staff, and the second, still ongoing round meant for laypeople who are considering an annulment or know others who are.

Father O'Connell, speaking with The Pilot May 19, said that many people who attended the seminars were unaware of some of the changes "Mitis Iudex" has brought to the annulment process in the archdiocese.

One of the biggest changes the papal document introduced, Father O'Connell said, is the addition of the "briefer process." As the name suggests, it allows for a quicker annulment process, but only for the "most obvious cases," he said.

Article 14 in "Mitis Iudex" notes that those cases might include: "the defect of faith which can generate simulation of consent or error that determines the will"; "a brief conjugal cohabitation"; "an abortion procured to avoid procreation"; "the deceitful concealment of sterility, or grave contagious illness, or children from a previous relationship, or incarcerations"; and "physical violence inflicted to extort consent."