New Boston fire boat named for dept. chaplain Father Mahoney
---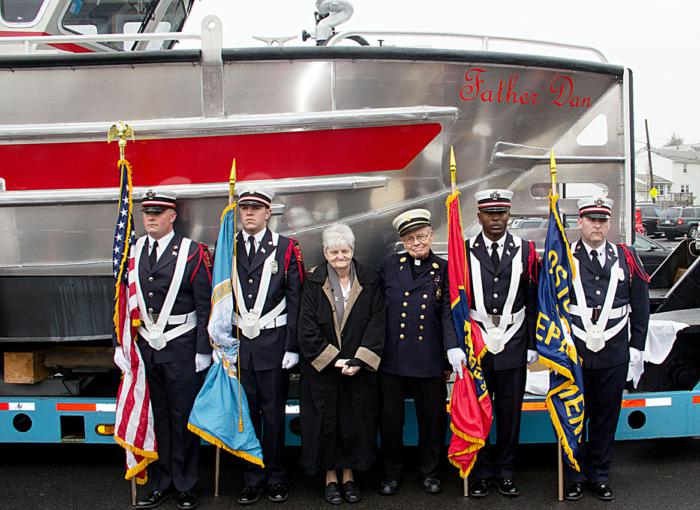 Boston Fire Dept. Chaplain Father Daniel Mahoney is pictured with his assistant, Joan Rae, and color guard members in front of the department's new fire boat named in his honor, the "Father Dan." Pilot photo/Mark Labbe
DORCHESTER -- The "Father Dan," the Boston Fire Department's new 32 foot fire boat, sat on the bed of a truck outside Florian Hall in Dorchester as members of the fire department and locals gathered inside the hall to honor the boat's namesake, Father Daniel J. Mahoney.

Chief Chaplain and the longest serving member of the Boston Fire Department, Father Mahoney sat at a table inside among an estimated 250 guests as Fire Commissioner Joseph E. Finn described the new boat and praised Father Mahoney.

"A new 32 foot aluminum catamaran, with twin 250 horse power engines, (the fire boat) also features a 72 inch bow door with a hydraulic ramp for beach landings, as well as the latest sonar to map the ocean floor, and a forward looking infrared for night vision. It can reach top speed of 35 knots, which will allow us a very nimble response anywhere in the harbor," he said.

"I'm proud we're dedicating (it) to Father Dan Mahoney, a man who's dedicated his life to two loves: First, the Catholic Church, and the second the fire service, in particular the Boston Fire Department. Father Dan has been a priest for over 60 years and a chaplain of the Boston Fire Department for 52 of those years," he continued.

Ordained in 1956 by the late Cardinal Richard Cushing, Father Mahoney was appointed assistant chaplain to the Boston Fire Department in 1964. He was promoted to senior assistant chaplain in 1972, and then to chief chaplain in 1991.