Brotherhood of Catholics and Jews in Boston celebrated
---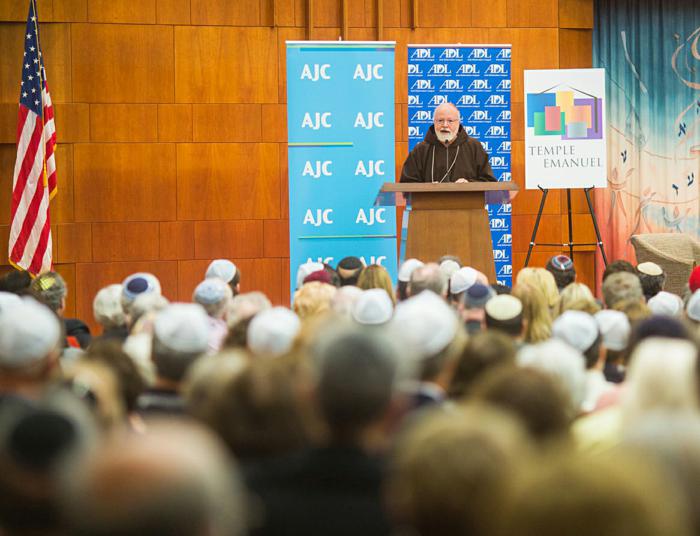 Cardinal O'Malley addresses the crowd at Temple Emanuel in Newton March 10. Pilot photo/Eric Haynes, courtesy AJC
NEWTON -- Before Cardinal Seán P. O'Malley could begin his address at Temple Emanuel in Newton on March 10, the crowd of hundreds rose to its feet and enthusiastically applauded. The cardinal, clearly moved, said he was overwhelmed by the warm welcome.

For the last 50 years, the growing mutual affection between Jews and Catholics has been fueled by Nostra Aetate, the Second Vatican Council's declaration on the relation of the Church with non-Christian religions. The declaration -- promulgated on Oct. 28, 1965 by Pope Paul VI -- notes that Jesus himself was Jewish and that his death cannot be charged against all Jewish people.

In remarks made before Cardinal O'Malley's address, Rabbi Wes Gardenswartz praised Nostra Aetate and the "courageous moral leadership of the Catholic Church." Rabbi Gardenswartz is a rabbi at Temple Emanuel, which, along with the Anti-Defamation League and AJC Global Jewish Advocacy, organized the event.

He said that for nearly 2,000 years distrust and dislike marked the relationship between Catholics and Jews. At times, Christians attacked Jewish communities, and innocent blood was spilled in the name of God.

Through Nostra Aetate, Christians were encouraged to love the Jewish people and refer to them as brothers in faith, he added.