Forming the Future -- Cathedral High School
---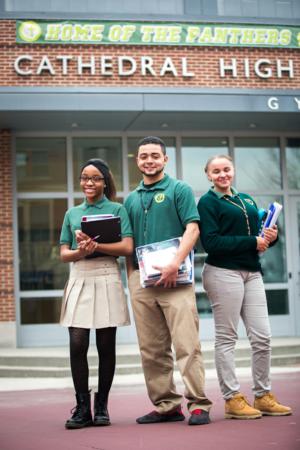 Nate Fried-Lipski photo/courtesy Cathedral High
SOUTH END -- No two students are the same -- and neither should their education be. According to Dr. Oscar Santos, headmaster at Cathedral High School in Boston's South End, that is the philosophy behind the school's personalized learning model.

Three years ago, when Santos became the Head of School at Cathedral High School, he noted that "this really seemed to be a special place."

The largely low-income student body -- 88 percent of the school qualifies for free or reduced lunch -- had an "incredible sense of community."

As he came to know the school, Santos realized that what was needed was a personalized learning plan for each individual student. Students learn based on their interests and "have their education tailored to meet their needs," he explained.

"Basically, you cannot teach someone unless there is a personal connection. Otherwise, you can go through the motions, but in order for the teaching really to sink in, there has to be a personalized connection," Santos said.