Special Holy Door opened for Poor Clares in Jamaica Plain
---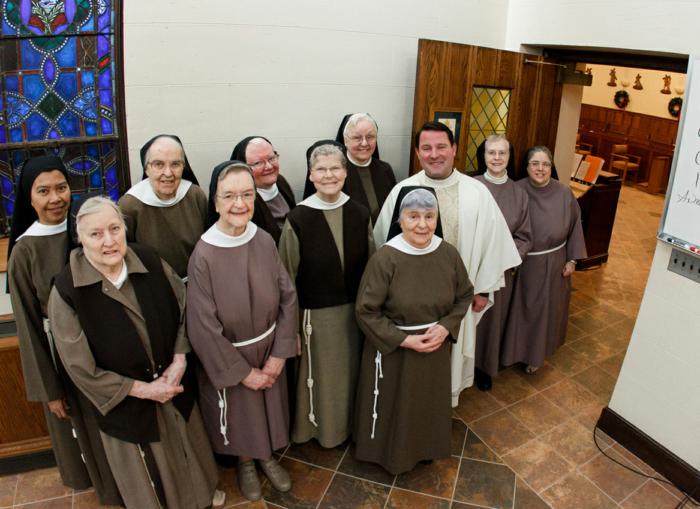 Poor Clare nuns are pictured with Father Gaspar by their new Holy Door following the Mass. Pilot photo/Gregory L. Tracy
JAMAICA PLAIN -- For Sister Linnea, OSC, a cloistered Poor Clare nun in the order's Jamaica Plain convent, walking through her convent's newly opened Holy Door was "like walking through another 'holy door' -- the one I walked through when I first entered this house in 1984."

Born into a Baptist family, she converted to Catholicism in the 1960s and felt God calling her to become a nun but did not enter the convent because her mother strongly objected. Finally in 1984, she could ignore the call no more. She entered the cloister, and walked through her "first holy door."

Father Jonathan Gaspar made a special trip to the convent on Jan 10, the feast of the Baptism of the Lord, for the opening of the Holy Door inside the convent, marking Pope Francis' Extraordinary Jubilee Year of Mercy.

"All Catholics are invited to pass through the Holy Door at the Cathedral of the Holy Cross in order to receive an indulgence," Father Gaspar explained before the Mass. "The Holy Father has given special instructions for those who cannot travel to the cathedral. Because the sisters cannot leave their convent, I'm here, together with Sister Clare Frances, OSC, (the abbess) to open the Holy Door inside the convent."

"In communion with the universal Church, Pope Francis has asked that in monasteries such as this one, a Door of Mercy should be opened, so that the members of this contemplative community may receive the jubilee indulgence," he explained.