Simulation puts participants 'In a Refugee's Shoes'
---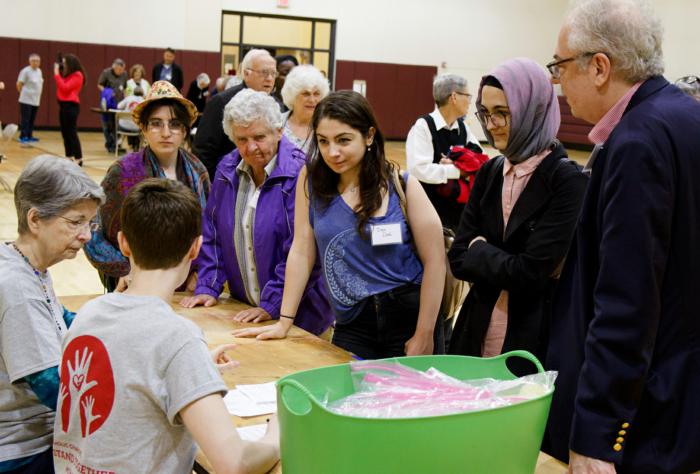 Participants portraying a refugee family wait to receive 'rations' from Catholic Charities workers during the June 17 'In a Refugee's Shoes' interactive simulation. Pilot photo/Mark Labbe
BOSTON -- Many people looked confused, and some a little frustrated, as they wandered from station to station during Catholic Charities of the Archdiocese of Boston's "In a Refugee's Shoes" interactive simulation. But, organizers said, that was exactly what was supposed to happen.

The simulation, taking place in Boston College High School's gymnasium, June 17, was held as part of Catholic Charities' Standing with Refugees event, which also included a panel discussion on refugees. The event was held in celebration of World Refugee Day, June 20.

Dozens of people attended the discussion as well as the simulation, which was meant to guide participants through a refugee's experience in trying to attain access into the United States.

To start the simulation, participants were first broken up into "families," with people being assigned characters with a variety of backstories and reasons why they fled their home country and were now looking to enter the United States.

Families then had to fill out paperwork explaining these reasons. Written and oral instructions were given in Spanish, a language some were familiar with, but most didn't speak fluently. Organizers said this was to simulate the confusion refugees might face dealing with English.