March 8-14 is National Catholic Sisters Week
---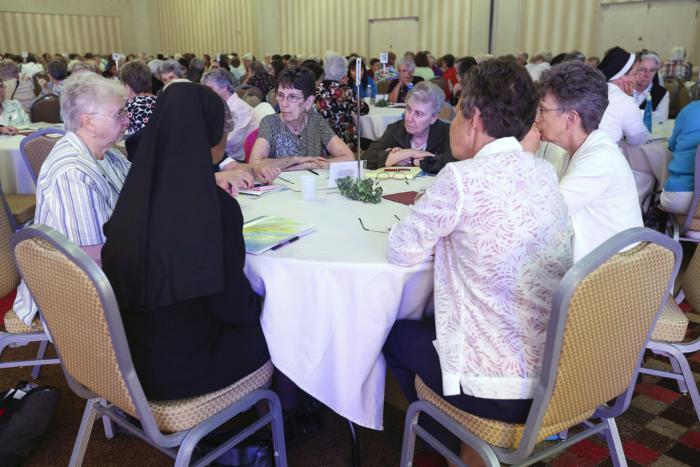 Religious sisters attend and share ideas Aug. 10 during the 2016 assembly of the Leadership Conference of Women Religious in Atlanta. CNS photo/Michael Alexander, Georgia Bulletin
ST. PAUL, Minn. -- Now in its fourth year of observance, National Catholic Sisters Week (NCSW) will shine a spotlight on the lives and ministries of the nation's 47,170 Catholic sisters and all of the sisters who have come before them.

Taking place March 8-14 this year's NCSW is themed "Meet a Sister -- Be Inspired!" The week is celebrated in conjunction with National Women's History Month, which spans the full month of March.

"Catholic sisters don't seek the spotlight," said Molly Hazelton, site director of NCSW.

"Humility is in their DNA. But we know that raising awareness of their ministries can inspire the masses, and that's what we're aiming to do. In a time when there isn't much good news, we need more than ever to hear stories of how they help and heal a fractured country."

Started in 2014, NCSW is headquartered at St. Catherine University in St. Paul, Minn. and is supported by a $3.3 million grant from the Conrad N. Hilton Foundation. Celebrations are set to reach across the country, with record number of events happening during the week.

Some of the events taking place within the Archdiocese of Boston include a Holy Hour being held by The Little Sisters of the Poor in Somerville. The Holy Hour will take place on March 12 at 4:30 p.m. at the Jeanne Jugan Residence, located at 186 Highland Ave, Somerville.

Regis College in Weston, founded by the Sisters of St. Joseph of Boston, will also be celebrating the week.