On Sunday, October 13, Pope Francis will canonize five new saints, among them Saint John Henry Newman. Join in the celebration of the Canonization Mass live from Saint Peter's Square at the Vatican on CatholicTV at 4 a.m. (rebroadcast at 11 a.m.).
Celebrate Sunday Masses all weekend. Mass from America's Catholic Church, the Basilica of the National Shrine of the Immaculate Conception, airs Saturday at 7 p.m. and 11:30 p.m. Father Sevola celebrates this week's CatholicTV Sunday Mass that can be seen on cw56/WLVI at 8 a.m. (rebroadcast at 7 & 11:30 p.m. on CatholicTV) or on demand at CatholicTV's website. CatholicTV airs Sunday Mass in Spanish, with Padre Macias this week,
La Santa Misa
at 8 a.m., 5:30 p.m., and 10 p.m. every Sunday.
Sunday Mass from Notre Dame
airs live at 10 a.m. A bi-lingual Mass from San Antonio's San Fernando Cathedral airs at 4 p.m. See all CatholicTV Masses at CatholicTV.org/mass.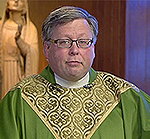 Celebrate Mass every day with CatholicTV.
Daily Mass
with priests from around the archdiocese airs weekdays live at 9:30 a.m. with rebroadcasts at 7 p.m. and 11:30 p.m. This week's celebrants are Monday through Friday, Father Connors, Father Ring, Father O'Connell, Father Casey. and Father Carmichael. Saturday Mass comes from Loretto Abbey in Toronto at 9:30 a.m.
Along with our Masses, watch The CatholicTV Network 24 hours daily in crystal-clear digital on Charter channel 101, Comcast channel 268 (183 in some areas), RCN channel 85, and Verizon FiOS channel 296. CatholicTV is also available on Apple TV and Roku. Help get CatholicTV on cable and satellite everywhere. Visit GetCatholicTV.com for more information or to watch live anytime, everywhere.