Everyone in the park and watching on television knew he was in there for one reason only -- to steal second base and get himself into scoring position... When Rivera finally did deliver a pitch, Roberts took off. The rest is history.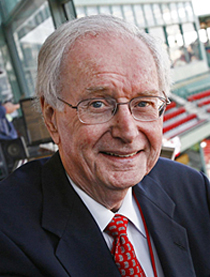 The outlook wasn't brilliant for the Beantown nine that night;

Down three games to none, ninth inning, end in sight.

So to the stricken multitude ignominy beckoned.

Then pinch runner Roberts made a dash for second.

The catcher came up throwing, Jeter raced to take the ball.

Roberts dove, the play was close. "Safe!" was the umpire's call.

What happened next will be retold for years in baseball lore.

For that theft sparked a comeback unheard of before.

Mueller singled Roberts home and several innings later

Big Papi put the game away with a home run 'tater.

The Sox went on to win game five, game six, and then game seven.

The Yanks were dead, the cards got swept, and hello, baseball heaven.

There was singing, there was cheering, and heroes filled the place,

But it never would have happened had Roberts not stole that base.

Dave Roberts was just a spare part for the Boston Red Sox in 2004. He'd been acquired on the July 31st deadline from -- guess where? -- the Los Angeles Dodgers, the team he'd be managing 14 years later.

When he first arrived in Boston, he played more than originally anticipated because starting right fielder Trot Nixon had back problems. As the season wound down, though, Nixon's health improved and Roberts found himself relegated to the bench, save for occasional pinch running duties. He wasn't used as a pinch hitter very often because he had little or no power; just 23 home runs, lifetime -- two of them with the Red Sox -- over a 10 year career.

But he didn't pout; he kept himself ready, both physically and mentally, just in case he was needed in a big moment. He spent hours in the video room with first base coach Lynn Jones, watching the tendencies of relief pitchers who might be on the mound if he were called upon to run late in a game. Chief among those pitchers was the great Mariano Rivera, the lights-out closer of the New York Yankees. Roberts thought about what Dodgers' base running coach Maury Wills, himself the perpetrator on 586 big league steals, used to tell him, that someday he'd be called upon to steal in a big moment, when everyone in the park knew that was his intention, and that he had to be ready to do it, no matter what.

That big moment came in the ninth inning of game four of the ALCS against the Yankees, and Roberts was ready. When he was put in the game to run for Kevin Millar, who had walked, the Red Sox were behind, four to three, and on the verge of being swept. Everyone in the park and watching on television knew he was in there for one reason only -- to steal second base and get himself into scoring position. Sure enough, Hall of Fame closer Mariano Rivera was on the mound. Rivera threw over to first three times before delivering a single pitch to the batter, Bill Mueller. When Rivera finally did deliver a pitch, Roberts took off. The rest is history. Mueller singled him home to tie the game and Ortiz homered to win it in the twelfth.

It was an iconic moment that has never been forgotten by Red Sox fans. But what has been forgotten is what happened the very next night, under eerily similar circumstances. It was less dramatic but just as important. The Sox were trailing again in an elimination game, by the same score, four to three, this time in the eighth inning. Roberts was put in the game, again, to run for Millar. This time Tom Gordon was the Yankee pitcher. He, like everyone else, was preoccupied by the threat to steal. When Roberts did eventually go, the batter, Trot Nixon, singled and the speedy Roberts made it easily to third. Jason Varitek then lofted a sacrifice fly, and Roberts tagged up to score the tying run. The Red Sox went on to win, this time in the fourteenth inning, on a hit by -- you guessed it -- Ortiz. Then it was back to Yankee Stadium and Curt Schilling's bloody sock game followed by the seventh game blowout. The sweep of the Cardinals in the World Series was almost an afterthought.

That fifth game of the ALCS marked Dave Roberts' last appearance in that postseason and his last appearance in a Red Sox uniform. He'd been with the team less than three months, didn't even have an at bat during the playoffs or World Series, and would be traded to the Padres a few weeks later, but his place among Red Sox immortals had been secured.

Roberts knew, of course, that he had done something big in the eyes of all Boston. The reaction to him by fans during the duckboat parade made that obvious, but he didn't have a sense of the lasting impact he'd made until he got off the plane after flying home to San Diego in the wake of the great celebration. When he picked up his bag in the luggage claim area, on it he found a message from a baggage handler back at Logan Airport who had recognized the name on its ID tag. It said, "You're going to be a Red Sox legend forever."

That baggage handler knew what he was talking about. The next time Roberts was in Fenway Park was three years later, in 2007, when he was playing for the San Francisco Giants. He received a prolonged and raucous ovation. Then, at this year's World Series, 14 years after he stole that base, he was given roaring welcome backs every time he was introduced. When was the last World Series any manager of an opposing team stopped the show just by showing up? Never, I'd venture to guess.

The same thing would happen 20 years from now -- when Roberts will be 65 years old. In 2054, when the golden anniversary of the magical comeback is celebrated, Dave Roberts, then 81, will be bathed in an ovation.

He is, in fact, a Red Sox legend forever.
Dick Flavin is a New York Times bestselling author; the Boston Red Sox "Poet Laureate" and The Pilot's recently minted Sports' columnist.
Recent articles in the Culture & Events section