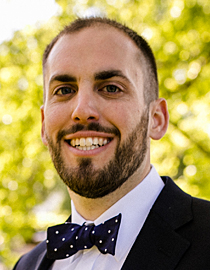 Within the papers of Bishop Benedict J. Fenwick resides a letter written from Mayor Martin Brimmer of Boston, dated Jan. 28, 1843. Brimmer was writing to draw Bishop Fenwick's attention to a book being used in Boston's public schools called "Elements of History, Ancient and Modern," by Joseph E. Worcester.

"After having attentively perused its pages," Brimmer writes, "I unhesitatingly say that it is not such a Book as should be put into the hands of children of any Denomination of Christianity who are desirous of being correctly instructed in History -- and much less into the hands of the Catholic youth of this City."

Within the same folder is a document 19 pages in length, again written by Brimmer for Bishop Fenwick, which reveals that the bishop had replied to the initial letter asking for this more detailed account of the text's inaccuracies. Regardless of the offense, the root of each issue appears to be that the information was gathered from "Protestant" sources, and the adjectives the author applies to Catholics vand their practices consistently work towards questioning their soundness. In his own words, Brimmer claims that the author's purpose was to make the "Catholic religion both odious and ridiculous to the Community at large."

Brimmer continues that there are several other books of a similar nature, and he will take this matter up with the School Committee of the City of Boston. He cites a statute which dictates that the committee was not permitted to recommend any book which favors one sect of Christianity over another. He appeals to Bishop Fenwick to write the committee, asking them to review the books he has mentioned and replace them with more appropriate texts or parents will be forced to withdraw their children from the schools.

Brimmer leaves little room for compromise, and his description of this text and the author's intent, in particular, are direct and severe. A third letter from Brimmer to Bishop Fewnick written from City Hall on April 8, 1843, reveals the conclusion of this episode. Brimmer references a "communication" sent by the bishop to the school committee that was taken into consideration and encloses their written response. It was resolved that the chapter on ecclesiastical history in Worcester's text would no longer be studied in public schools, and that they would contact the author requesting a revised edition which conforms "with the spirit of the law."

Through much of the 19th Century "the Yankees," writes historian James W. Sanders, "determined to perpetuate their Puritan tradition, attempted to acculturate the Irish by enticing their children into the public schools." While this worried some, at the same time newly arrived Irish Catholics did wish to gain acceptance in their new community and attended these schools, regardless.

Bishop Fenwick was active in his attempts to offer alternative options for some children. He relocated the Ursuline nuns from Boston to Charlestown, a more ideal location for their boarding school for girls which, ironically, was largely attended by the daughters of wealthy Protestant families. He also purchased Mount St. James Academy, Worcester, during the months this correspondence was being exchanged, which would reopen later that year as the College of the Holy Cross.

Though, most notably, Boston College opened its doors in 1864, for much of the remainder of the 19th Century Boston's bishops would work within the confines of the Protestant system, until Cardinal William H. O'Connell made a more concerted effort to develop local Catholic education in the early 20th Century.

For further reading:

"Catholic Boston: Studies in Religion and Community," 1870-1970. Edited by Robert E. Sullivan and James M. O'Toole. Boston: Roman Catholic Archbishop of Boston, 1985.

"From Common School to Magnet School." Edited by James W. Fraser, Henry L. Allen, and Sam Barnes. Boston: Trustees of the Public Library of the City of Boston, 1979.

"Elements of History, Ancient and Modern," by Joseph E. Worcester: Library of Congress Collection at Archive.org, archive.org/details/elementsofhistor05worc.
Thomas Lester is the archivist of the Archdiocese of Boston.
Recent articles in the Culture & Events section