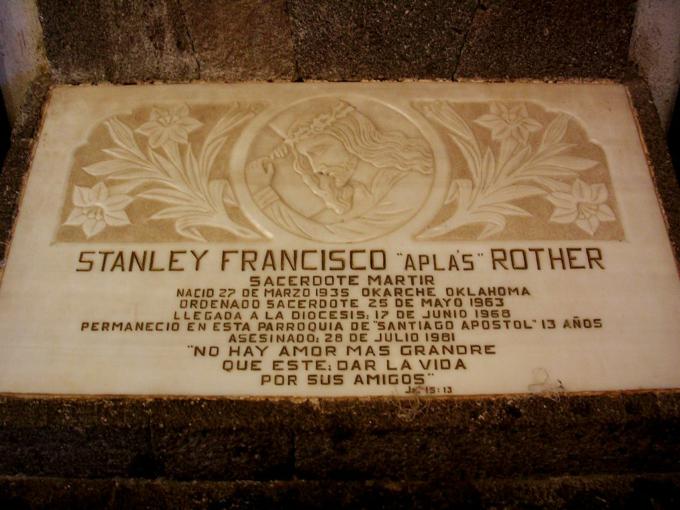 Martyrdom is simultaneously shameful and glorious, the martyrs' blood both a waste and the seed of future Christians.
With martyrs, Christians are always faced with a moral paradox, for martyrs are signs of contradiction not only to the people and culture that executed them but also to the Church that venerates them. On the one hand, Christians certainly mourn their deaths and lament what led to them, but on the other we celebrate their heroic faith and the good that God brings out of the evil they endured. Martyrdom is simultaneously shameful and glorious, the martyrs' blood both a waste and the seed of future Christians.

We are living in a new age of martyrs. More Christians have been killed because of their faith in the past century than in the previous nineteen centuries combined. When we look at what happened in Armenia, Mexico, Spain, and Cambodia, in the Nazi concentration camps and in the communist countries of the former Soviet block, Asia and Cuba, and what's happening now in parts of the Middle East, Africa, Pakistan and India, the body count is so staggering that many simply cannot fathom it. And even if people escape torture, death and imprisonment, many others suffer various levels of persecution, a type of dry or white martyrdom in which the sacrifice remains supremely costly.

For this new age of crimson, there is a need for models, through whose heroism the rest of us can learn how to live and die for the Good Shepherd who died to give us life to the full, and through whose example we can grasp how to love others with the greatest love of all.

Last Friday, Pope Francis proposed such a hero for Catholics in the United States and Guatemala, recognizing the martyrdom of Father Stanley Rother, a priest of the Archdiocese of Oklahoma City who was assassinated on July 28, 1981 in his rectory in a Guatemalan village.

He's an incredible witness to Christian courage and priestly love whose beatification will take place sometime next year.

While I was in seminary, a classmate of mine was assigned to the parish of Okarche, Oklahoma where Father Stan was born and grew up and where his dad, brother and several of his family members still lived. My friend would bring Mr. Rother Holy Communion. They told him some incredible stories about Fr. Stan that make him stand out for his life and not just his holy death.

On the day he was baptized at Holy Trinity Church in 1935, the famously imperious German pastor at the time, Msgr. Zenon Steuber, refused to baptize him "Stanley Francis" -- christening him rather "Francis Stanley" -- because, the priest insisted, that there was no "Saint Stanley." Well, as of next year, by God's providence and his intrepid human faith, Stanley will be a moniker capable of passing the muster of even the most meticulous Monsignors!

Likewise because he was a farmer, he often didn't have much time for books and consequently struggled as a seminary student particularly because the classes were in Latin and he was not a linguist. Similar to St. John Vianney, the patron saint of priests who was booted from the seminary because he couldn't even understand the Latin questions that were asked him, after six years of college and major seminary studies Stan was asked to withdraw from Assumption Seminary in San Antonio. But his bishop didn't give up on him. He transferred him to Mt. St. Mary's Seminary in Emmitsburg, Maryland -- where I proudly attended for a year -- from which he was able to graduate and be ordained in 1963.

He served five years in parishes around Oklahoma before volunteering for the Mission the Archdiocese of Oklahoma City staffed for the Tz'utujil people in the rural highlands of southwest Guatemala. It's seemed on paper an unhappy pairing due to his poor reputation with foreign languages, but with passion and application he set himself to learn Spanish and the indigenous Tz'utujil language, eventually not only celebrating Mass in it but translating the entire New Testament into it and learning it well enough he could teach the locals how to read and write. His parishioners, who couldn't take easily to the name Stanley, united themselves with Msgr. Zenon, however, in calling him "Padre Francisco." He built a school, a small hospital, and a radio station through which people could be taught grammar and math.

Around 1980, extremist elements in the army during Guatemala's 36-year-long civil war started to use force and intimidation against some of the indigenous people and those who defended their rights. They destroyed Fr. Stan's radio station and killed its director. His catechists and parishioners began to disappear and were later found dead, their bodies showing signs of torture. In January 1981, his name was put on a death list because of his opposition to the presence of the military in the region, and he was pressured by friends, family and his bishop to leave for a time lest he become the next victim.

He returned to Oklahoma. His family members say, however, that even though he was on the farm he loved and grew up on, his attention and heart were with the people whom he had served for 13 years and who, surrounded by so many fierce wolves, desperately needed a shepherd.. A shepherd, he told others, cannot run at the first sign of danger. After three months, he asked the permission of his bishop to return, and despite his bishop's and others' remonstrations, "Padre Francisco" arrived back in Santiago Atitlán. Three months later, masked gunmen broke into his rectory and, after a struggle, shot him twice in the head. He was 46 -- my age -- one of ten priests murdered in Guatemala that year.

His body was flow back to Oklahoma City for the funeral and burial in his hometown, but the Tz'utujil parishioners begged that his heart be removed and sent back where it always was, with them, to be buried under the altar of the Church where he had served. There one finds a plaque sculpted in his honor, showing Christ carrying his cross, giving the details of Fr. Stan's life and death, and finishing in Spanish, "There is no greater love than this, to give one's life for one's friends."

His friends will never forget that heroic love and neither should we.
Father Roger J. Landry is a priest of the Diocese of Fall River, Massachusetts, who works for the Holy See's Permanent Observer Mission to the United Nations.
Recent articles in the Faith & Family section