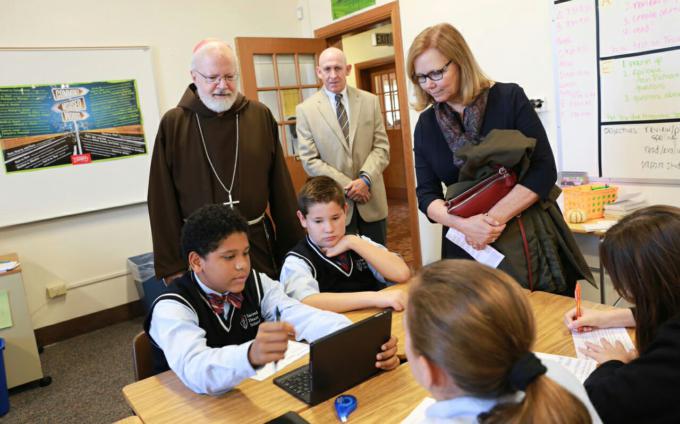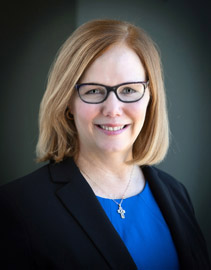 October is Clergy Appreciation Month, so it seems like a great opportunity to highlight some of the wonderful priests who support Catholic education in the Archdiocese of Boston.

Cardinal Sean is our shepherd and his support of Catholic education is strong. He is very interested in our students and their development into saints and scholars. I know that when he visits a school and celebrates the Eucharist with our students, he is impressed with their desire to grow in their faith.

As a graduate of Catholic parochial education, Cardinal Sean understands the commitment that is made on the part of parents and the church to support Catholic education. He has talked of the communities that Catholic schools have helped to create and he knows that Catholic schools are vehicles of evangelization, where families come to know Jesus.

Our bishops are also heavily invested in our Catholic schools. Bishop Kennedy has provided materials to our high schools on a number of topics, information that our Catholic Theology teachers have utilized to help with the catechization of our students. Bishop Dooher is always willing to celebrate the Eucharist with our students and he has granted more than one school a "free Bishop day," a time honored tradition of Catholic education! Bishop Hennessey has met with me and others in an effort to make sure our Catholic schools are offering the best possible education to as many students as possible. Our two newest bishops, Bishop Reed and Bishop O'Connell both have asked about the schools in their regions and are already visiting with the students, teachers and school leaders that they now serve.

The stories of priests who care deeply about our Catholic schools are numerous. Our pastors go about their work quietly and their conviction that Catholic education matters -- that Catholic schools make a difference -- means that our schools are working in tandem with our Church for the benefit of our students.

Father Jim Flavin, who was recently assigned to Holy Name School, told me how proud he was of the great faculty and leadership team that works every day to insure that all students are learning about God and academics. Father Jim Ronan loves Good Shepherd School and recently changed the format in order to better meet the needs of the families he serves. Father Paul O'Brien speaks eloquently of how the Catholic community of Lawrence works tirelessly to support Catholic education for many families who do not have many financial resources, yet desire a Catholic education. Msgr. Frank Kelley is such a strong supporter of Catholic education, that he takes time to serve on a variety of committees that are working to build even stronger Catholic schools in the archdiocese. Father Flavin, Father Ronan, Father O'Brien and Msgr. Kelley share a trait that many pastors of Catholic schools share: passion. These pastors are passionate about Catholic education and they work hard to make sure that Catholic education in the Archdiocese of Boston continues to prosper. Our pastors know how Catholic education benefits students and they are committed to assuring the continuation of a system that works well. Our pastors know that we must be intentional in our work to support Catholic education. They know that the legacy of Catholic education will only continue if we work together.

Catholic education is an investment in our Church and country. Catholic education makes our faith communities stronger and contributes to building stronger civic communities. According to research, graduates of Catholic schools are four times more likely to vote in elections and to volunteer or donate to charities because graduates of Catholic schools view these as important things to do for their faith lives. Our priests know this and it is another reason why they support our schools.

Catholic education works. It benefits society and it benefits the Church. Our pastors realize this and that is why they work to support our schools. It is why they raise money for tuition dollars, it is why they open car doors for students in the morning, it is why they celebrate the Eucharist with our students.

I hope our pastors know of our gratitude for their work in support of Catholic education. I hope they know that their work does not go unnoticed and the entire Church is grateful for their service. Please join us in prayers to support our priests and the work they do. They are appreciated by our schools.
Kathy Mears is Superintendent of Catholic Schools in the Archdiocese of Boston.
Recent articles in the Culture & Events section