When I came from Mexico as a Xaverian Missionary priest to work in this archdiocese, I had never heard about the CHRT. Nor did I understand how crucial this was for us, your priests.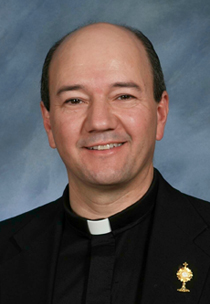 In this famous quote from the Gospel of John, the Lord asks us to love one another because he loved us first. Love is the mark of Jesus' disciples; they were known as Jesus' disciples because they loved. In the Gospel, love means following faithfully the will of God and loving one another.

We read, "Beloved, let us love one another, because love is from God; everyone who loves is born of God and knows God .... If we love one another, God lives in us, and his love is perfected in us" (1 John 4:7, 12). In other words, we are created to be in relationship with God and with one another.

Every September, in the Archdiocese of Boston, we hear about the Clergy Health and Retirement Trust (CHRT) collection and the Celebration of the Priesthood Dinner. Posters are displayed on church bulletin boards, articles appear in our archdiocesan newspaper, and a campaign is launched to make people aware of the importance of this effort. More than just a huge appeal, it is an opportunity to put our Christian love into practice. Let me explain.

When I came from Mexico as a Xaverian Missionary priest to work in this archdiocese, I had never heard about the CHRT. Nor did I understand how crucial this was for us, your priests. But in 1999, I began my process of incardination into the Archdiocese of Boston and was assigned to St. John the Baptist Parish in Peabody. It was there that I came to live in a wonderful community of fine priests that included the pastor, Father John McDonough; a priest in residence, Msgr. Frank O'Sullivan; and the parochial vicar Father Richard Fitzgerald. We were later joined by the newly ordained Father Robert Blaney.

The five of us formed a wonderful team. Looking back on those years, I appreciate even more now how important that period of formation was in my effort to be the priest that I am today. If love is an indelible sign of the followers of Jesus, we priests must exemplify that quality in an even greater way.

All the priests in the house in Peabody were wonderful examples of what it means to be a parish priest. Msgr. O'Sullivan, God rest his soul, had a lot of experience and was always available if one of the younger priests had a question about our ministry. I always felt so blessed to have him around. Sure, he would let us learn from our mistakes, but he would never refuse to give us his input when requested. Father McDonough had a world of knowledge and international experience, and he also affirmed our priestly ministry with his wisdom and fatherly concern. Richard, Bob, and I learned to be priests in a very healthy rectory, affirmed and supported by an authentic brotherly love.

All this would not have been possible without the support of the CHRT. We priests, although celibate, have never renounced the receiving and giving of affection. How could we be disciples of Jesus if the clearest sign of discipleship was something we did not practice? We priests receive a lot of affection from the people we try to serve. We would not be able to do what we do without their love and support. And also there is a unique bond between fellow priests that makes the presbyterate another wonderful source of brotherly support.

As the current director of the Hispanic Apostolate Office of the Archdiocese, and also the pastor at St. Stephen Parish in Framingham, I can see how priests can be pulled into so many different directions. Most of us are called to be priests at a time when we have to undertake multiple obligations and responsibilities. Those days of five to seven priests per rectory are long gone. These days, we have to guard against over-exhaustion, the temptation to try to fulfill everybody's expectations, and the danger of considering our priesthood simply an "office," even if some of the cleric's tasks are managerial; the priesthood is firstly a sacrament.

As I mark 28 years of priesthood, it becomes my responsibility to mentor others and make sure that they feel appreciated, supported, and affirmed in their ministry. I share the house with two wonderful young priests, Father Gabino Macias and Father Peter DeFazio, as well as Father Bert Stankard, who is a senior priest in residence. For the last six years, I have also been mentoring seminarians from Pope St. John XXIII National Seminary in Weston in their final preparations for the priesthood. We enjoy each other's gifts and ideas, we laugh a lot, and we always find time to pray together. No matter how tired I may be, I always feel supported by the love and prayers of my brother priests.

So when you respond to this September's appeal from the Clergy Health and Retirement Trust, know that you are contributing to a great cause -- you are supporting us, your priests, so that we may receive medical, financial, and professional attention when we need it. Your support enables us to be happy priests who convey a genuine joy in being icons of Christ, spreading "the joy of the Gospel."

Almighty and loving God, we thank you for calling us to yourself and loving us dearly. Open our eyes to recognize you and lead us to the way of love. When there is division among nations, hatred and indifference among peoples, make us instruments and channels of your love. This we ask through Christ our Lord, who lives and reigns with you and the Holy Spirit, one God, forever and ever. Amen.

FATHER FRANCISCO "PACO" ANZOATEGUI IS DIRECTOR OF THE ARCHDIOCESE OF BOSTON'S HISPANIC APOSTOLATE OFFICE AND PASTOR AT ST. STEPHEN PARISH IN FRAMINGHAM.
Father Francisco "Paco" Anzoategui is director of the Archdiocese of Boston's Hispanic Apostolate Office and pastor at St. Stephen Parish in Framingham.
Recent articles in the Faith & Family section