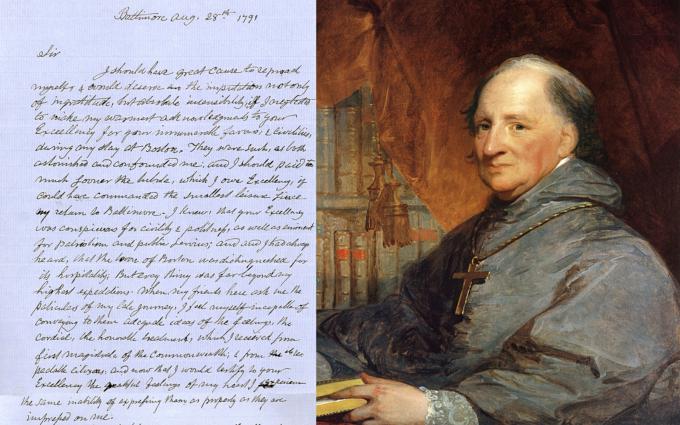 What the letter hides are the events which prompted Bishop Carroll's visit, which upon further research, reveal a tumultuous start to the Catholic Church in Boston.
A letter from Bishop John Carroll of Baltimore to Gov. John Hancock of Massachusetts, dated Aug. 28, 1791, is full of praise and thanks for Hancock, who hosted the bishop during his visit to Boston several months earlier. What the letter hides are the events which prompted Bishop Carroll's visit, which upon further research, reveal a tumultuous start to the Catholic Church in Boston.

The story of how this document came into possession of the Archdiocese of Boston is explained in Reverend Hilary Tucker's diary, held by the archive. An entry dating to July 7, 1863, reads that, "In the evening, Mr. Smith brought me a very precious letter written by Archbishop Carroll to John Hancock ... I consider this a very valuable manuscript, written by, and in the hand, of the archbishop. It was found among the papers, of the Hancock family, as the old mansion, it was being taken down, on Beacon Hill."

The events leading up to Bishop Carroll's visit date back to 1789, with the departure of the Abbe Claude de la Poterie, a French naval chaplain who had held the first Catholic Mass in Boston. His departure left Boston Catholics without a priest, and they appealed to Bishop Carroll on several occasions, begging him to send someone to fill the vacancy. Bishop Carroll responded to these requests by asking Father John Thayer, a New England native and convert who was currently residing in England, to return and fill the role of pastor.

Father Thayer departed for North America, but upon leaving England he then stopped in France for some time, the reason for which is unknown, delaying his arrival in North America. He also failed to send a reply, and without word from Father Thayer, Bishop Carroll asked Father Louise de Rousselet to leave his post in Philadelphia for Boston.

Shortly after Father Rousselet arrived in Boston, he was confronted with the return of Abbe de la Poterie, who had failed to get permission to preach in Quebec. In addition, Father Thayer finally arrived in Baltimore, and after meeting with Bishop Carroll, made haste to Boston to take up the assignment he had been offered earlier.

While Abbe de la Poterie seems to have been largely disregarded due to financial troubles and a lack of endorsement by Bishop Carroll, a schism began to form around Fathers Rousselet and Thayer, each supported by the French and Irish Catholic communities, respectively. After months of conflict, and each side writing to Bishop Carroll to make their claim as the pastor of Boston, he decided to travel there and assess the situation in person.

The bishop arrived on May 22, 1791, and remained for three weeks. During his stay, he not only attended public events, and was "without doubt ... entertained by the Governor and other prominent citizens," but also celebrated Mass on three Sundays in the Catholic Chapel on School Street. Though Boston was traditionally hostile towards Catholics, Rev. Jeremy Belknap wrote that "Bishop Carroll is here yet, and I assure you is treated with the greatest attention and respect by most of our distinguished characters; but the cause which he meant to serve is not the foundation of this respect; it is wholly owing to his personal character."

After assessing the situation firsthand, Bishop Carroll believed that Father Thayer was the man to reunite the divided community, and named him pastor. While he finally received the authority he had advocated for, Father Thayer seems to have come into conflict with some of the local citizens, and would depart for Virginia in October of 1792.

From perhaps the lowest ebb in our early history came a rising tide. Father Thayer's replacement arrived before his departure, on Aug. 20, 1792, and was a man who would lay the foundations for the Catholic Church in New England as we know it today, that man was Father Francis Anthony Matignon.

For further reading, see "History of the Archdiocese of Boston, Vol. I, 1604-1825." By Lord, Sexton and Harrington. Boston: The Pilot Publishing Company, 1945.

Thomas Lester is the archivist of the Archdiocese of Boston.
Recent articles in the Culture & Events section