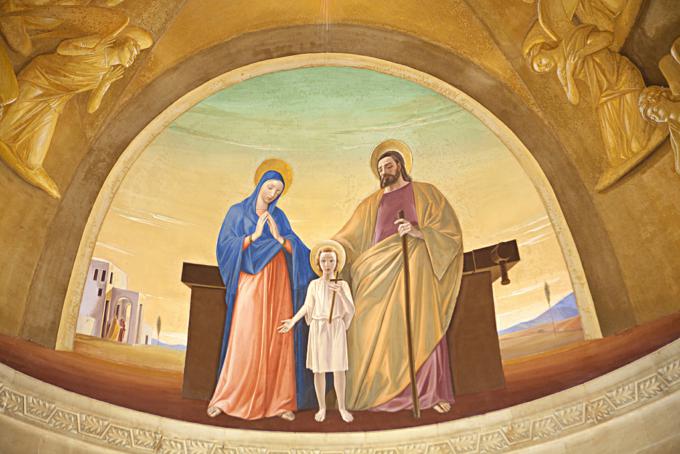 It is ironic that Joseph doesn't even have a speaking part in the Scriptures. Still, his life speaks boldly of what it means -- and what it takes -- to fully embrace the will of God.
Everybody needs a father. I know I did, mostly because I didn't have a very good one. No matter how much our media culture beats up on responsible husbands and dads -- or makes them look stupid, clueless, or irrelevant -- there isn't a parole officer or prison chaplain who would say that having a loving father's presence in your life doesn't matter. It does.

Kids with good fathers feel safe in the world. They believe that someone is watching over them and watching out for them. They can trust that their dads will protect them, even if that means being protected from themselves. They know they can count on someone to be the adult, even when it's difficult. Jesus must have felt that way about Joseph.

One problem, (and there are many), about not growing up Catholic, is that devotion to the saints just doesn't come naturally. I've never had any trouble learning about the saints, honoring them, or trying to imitate them. But actually loving a saint? Not so much. At least until recently.

I admit that the amazing stories of the lives of saints intrigue me. Mystics, healers, founders and foundresses, theologians, and missionaries: these bear the Christian ideals and virtues I dream of attaining. Those who are poor and uneducated living obscure and ordinary lives don't attract my attention. Of course, it is precisely their examples I need most. Why? Because life is ordinary, and filled with daily struggles that show us just how poor and ignorant we are.

In her wisdom, the Church holds up Mary and Joseph as the highest models of holiness for us. It is ironic that Joseph doesn't even have a speaking part in the Scriptures. Still, his life speaks boldly of what it means -- and what it takes -- to fully embrace the will of God. And that's the kind of dad I need. It's the kind of dad everyone deserves.

Joseph taught the Son of God how to be the kind of man God created all men to be. He also taught him how to lay down his life as a gift for those he loved as well as for the God who loves us all. Joseph was the daily example of self-sacrifice Jesus grew up watching. He can be and is that same kind of fatherly presence for us.

Joseph was the guardian of the redeemer, that is, the guardian of redemption itself. Now, he is there to guard and protect the redeemed, all those who belong to Christ. I don't know about anyone else, but I still need that kind of father in my life. I'm realizing now that he was always there. I just didn't notice or look to him for guidance.

I imagine that much of what Joseph and Jesus shared was spoken in winks and nods, a hand on a shoulder, or a glance of pride in a tear-filled eye. After all, that's how most men get much of what they want to say across. I think Joseph still communicates this way with us. He doesn't need the last word, or any. He just draws near, slows down his pace, and waits for each one of us to catch up and place a hand in his. He bends down to pick us up when we fall, and reassures us that he isn't going anywhere without us -- not even heaven.

JAYMIE STUART WOLFE IS A WIFE AND MOTHER OF EIGHT CHILDREN, AND A DISCIPLE OF THE SPIRITUALITY OF ST. FRANCIS DE SALES. SHE IS THE AUTHOR OF "ADOPTION: ROOM FOR ONE MORE?", A SPEAKER, MUSICIAN AND SERVES AS A CHILDREN'S EDITOR AT PAULINE BOOKS AND MEDIA. FOLLOW HER ON TWITTER @YOUFEEDTHEM.
Jaymie Stuart Wolfe is a Catholic convert, wife, and mother of eight. Inspired by the spirituality of St. Francis de Sales, she is an author, speaker, and musician, and serves as a senior editor at Ave Maria Press. Find Jaymie on Facebook or follow her on Twitter @YouFeedThem.
Recent articles in the Faith & Family section