Local
Mass. Knights install new officers
By Pilot Staff
Posted: 9/21/2018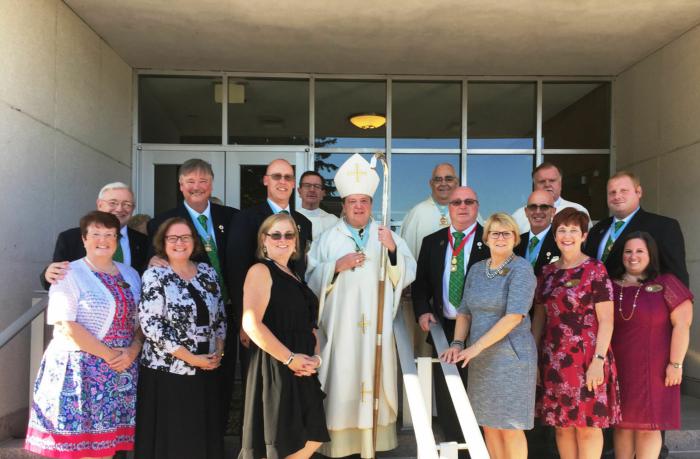 Past state deputy Paul O'Sullivan and Susan of Foxborough; State advocate Robert Schwarz and Mary of Wareham; State treasurer Thomas Butler and Kerry of West Springfield; Father Thomas Rafferty, former associate state chaplain; State chaplain and Boston auxiliary Bishop Robert Hennessey; Associate state chaplain, Father Robert Bruso; State deputy Paul Flanagan and Kathy of Stoughton; State secretary Michael Lesperance and Ann of Millville; Father Stephen Madden, former associate state chaplain; State warden Nicholas Melanchook and Ashley, Lynn. Photo courtesy/Richard Guerriero
---
The Massachusetts State Council Knights of Columbus recently held its Installation of State Officers at St. John the Evangelist Parish in Canton with a Mass celebrated by the Knights of Columbus state chaplain and Boston auxiliary Bishop Robert Hennessey.

Installed were state deputy Paul Flanagan of Stoughton, state secretary Michael Lesperance of Millville, state treasurer Thomas Butler of West Springfield, state advocate Robert Schwarz of Wareham, Nicholas Melanchook of Lynn and immediate past state deputy Paul O'Sullivan of Foxborough.

Newly installed state deputy Paul Flanagan is the son of past state deputy (1980-1982) Newman Flanagan and the grandson of the late past state deputy, James Flanagan (1944-1946); this grandfather, father and son as state deputy in the same jurisdiction is a first in the history of the Knights of Columbus.

The Knights of Columbus is the world's largest Catholic fraternal service organization whose nearly 2 million members and 15,000 councils support a broad spectrum of charitable causes locally, as well as internationally.

Founded in 1882 as a fraternal benefit society to render financial aid to members and their families, the Knights of Columbus continues to be true to its founding principles of charity, unity and fraternity by offering support to its membership, as well an almost infinite variety of local, national and international charitable projects. These projects also include Warriors to Lourdes, the March for Life; the Saint John Paul II National Shrine; Building the Domestic Church; and many more.

2017 was a record-setting year for Knights of Columbus charitable work with an unprecedented $185.6 million in donations and 75.6 million hours of service provided worldwide.