Local
From Cardinal Seán's blog
By
Posted: 11/13/2015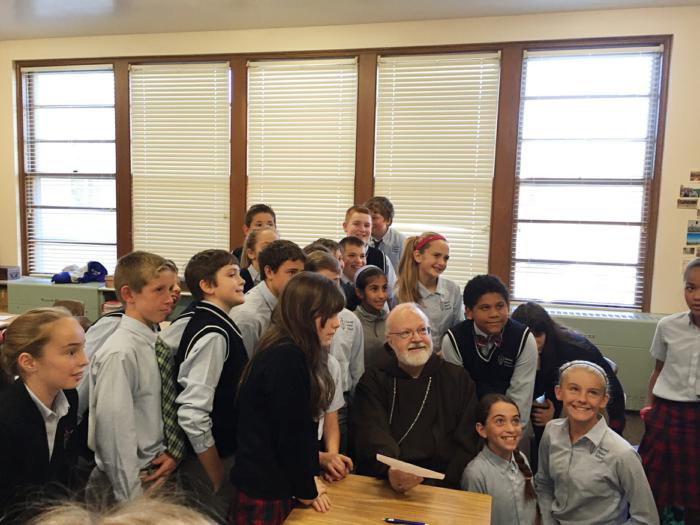 'Tuesday (11/3), I paid a visit to Sacred Heart School in Kingston.' Pilot photo/CardinalSeansBlog.org
---
On Friday, I was visited by Father John Cecero, the provincial of the new USA Northeast Province of Jesuits formed out of the New York and New England Provinces. I was very pleased to be able to speak to him and I thank him for all the help that the Jesuits provide in our parishes, particularly for the young Jesuits from all over the world who are here working with our different immigrant groups. They have made a great contribution to the archdiocese.

All Saints and All Souls

Sunday (11/1) was, of course, All Saints Day, and I celebrated Mass for the Spanish community at the Cathedral. Afterwards, they had a fiesta with people dressed as different saints. Then, in the afternoon I went to St. John's Seminary for the concert, Music in Remembrance of the Faithful Departed, anticipating All Souls the following day. I blessed the organ, which is only recently being used again after undergoing renovations. On All Souls I observed the tradition of celebrating three Masses on that day. I always like to do this because only on All Souls Day and on Christmas is the priest allowed to celebrate three Masses -- unless there is pastoral need.

Visit to Sacred Heart School

Tuesday (11/3), I paid a visit to Sacred Heart School in Kingston. I had not been there in many years, so I was happy to be back. The school is run by the Sisters of Divine Providence, whom I know very well because, being a German foundation, in my province they were the sisters who worked in all our parishes -- both in Pittsburgh and in Puerto Rico. In fact, there is one sister at Sacred Heart from the town in Puerto Rico, Utuado, where I had worked as a brother. Cardinal Cushing helped in establishing the school, which is located on a huge parcel of land. It's just a beautiful facility and I believe that, in all, they have something like 800 students in grades pre-K through 12.

Pamela Desmarais is the President of Sacred Heart and they have an Early Childhood Center, headed by Sister Angela Provost; a primary school, headed by principal Kim Stoloski; and the high school, headed by principal Michael Gill. I visited the preschool where the little children sang some very nice songs for us. Then, we gathered with the elementary and high school students for Mass in their auditorium. I also thought it was interesting that the highway there is called Bishops Highway and is Route 80, taken from the number of Cardinal Cushing's license plate, which remains the license plate number of the Archbishop of Boston to this day.

Visit to the National Shrine

Wednesday (11/4), I was in Washington D.C. for an executive board meeting of The Catholic University of America and, as I always like to do when I'm there, I paid a visit to the Basilica of the National Shrine of the Immaculate Conception.... I must have been in the Basilica hundreds of times, but I never noticed before that they have a statue of St. Conrad of Parzham, who is the only saint from our Capuchin province.

I had heard recently that his statue was there, but I had never seen it. St. Conrad was the Porter at Altotting, the Marian shrine in Bavaria. And so, fittingly, right nearby in the shrine is the statue of Our Lady of Altotting. While I was there, I noticed a man giving a tour, so I waited to hear what he had to say as he went by. He was explaining that one area was all Jesuit saints, etc. and when he got to this section he said, "... and these are all the 'nobody saints.'" Actually, if you know the story of St. Conrad's life of humble service, you know he probably would have appreciated that description!